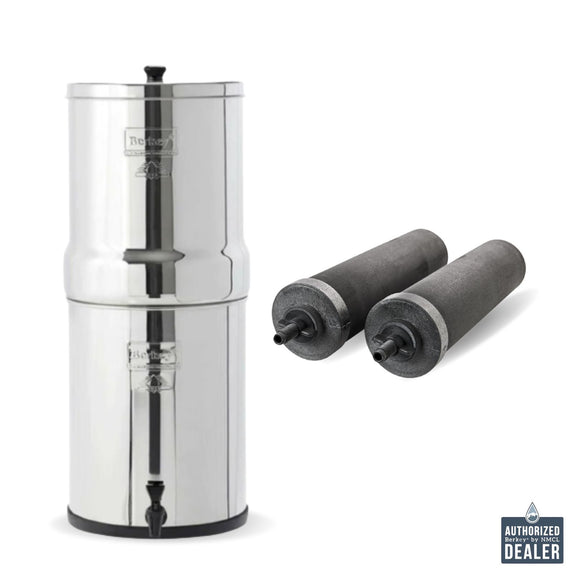 Blemished Imperial Berkey® System (4.5 gal)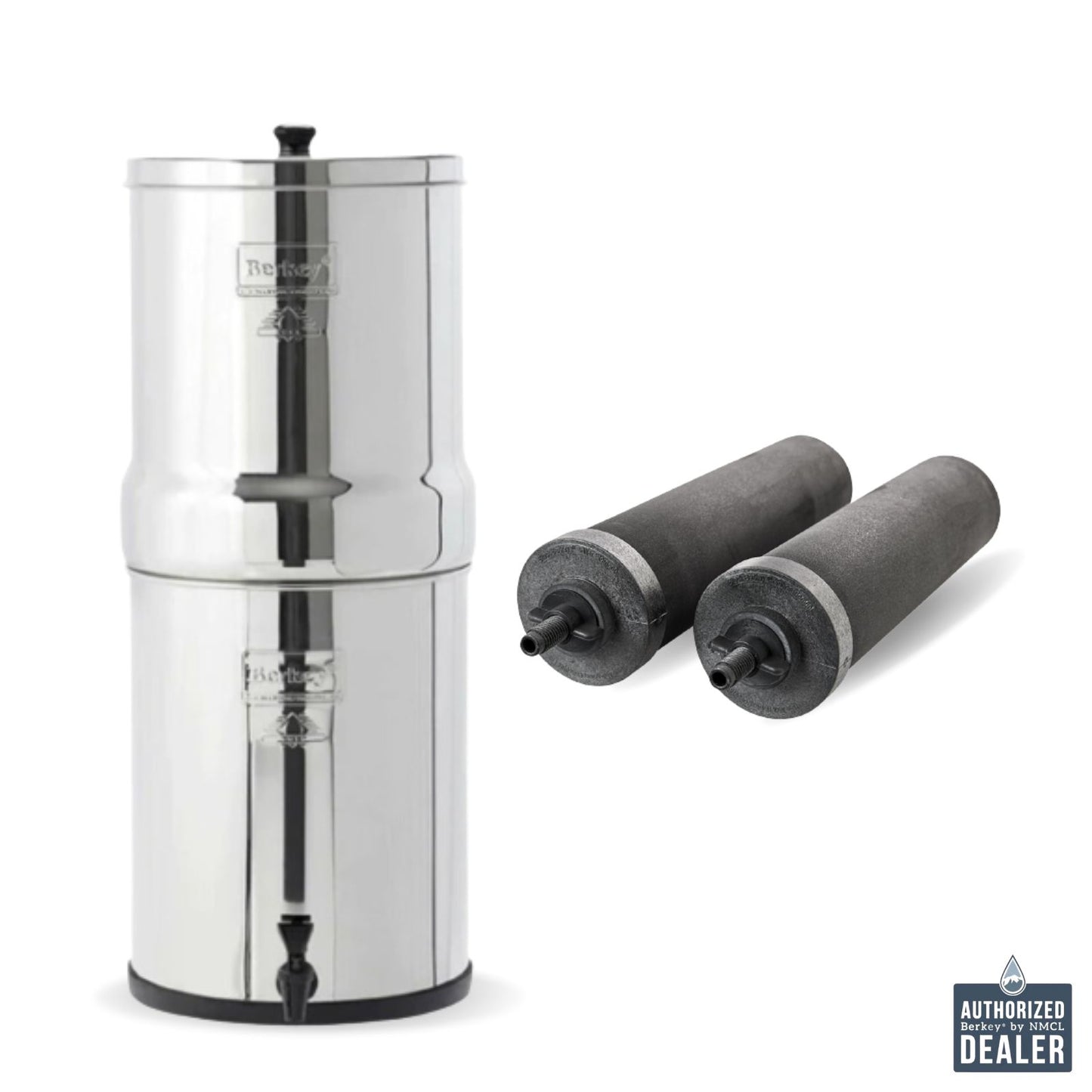 Blemished Berkey® Systems - Affordable Excellence

Experience Uncompromised Performance
Introducing the Blemished Imperial Berkey® System (4.5 gal) - the perfect choice for those seeking an economic solution without compromising on quality. Our blemished systems offer incredible savings while guaranteeing the same exceptional performance you expect from Berkey®. With cosmetically blemished stainless steel chambers, these systems provide affordable excellence for all your water filtration needs.

Unleash the Power of Black Berkey® Elements
Rest assured that even though our blemished Berkey® systems may have minor cosmetic defects, the Black Berkey® Elements remain uncompromised. These warrantied filtration elements have earned Berkey® by NMCL its position as the industry leader. The same performance, longevity, and reliability that you would find in our non-blemished systems can be experienced with our blemished Berkey® systems. With the trust of Black Berkey® Elements, you can enjoy pure, filtered water with peace of mind.

Purify Water for Groups - The Mid-Sized Solution

Provide Clean Water to Larger Groups
Looking to provide pure filtered water to a larger group of people? The mid-sized Imperial Berkey® System is the clear choice. Designed for small to medium-sized groups, including churches, hospitals, orphanages, teams, and households of up to eight members, this system is suitable for various settings, whether it's outdoor activities or unplanned emergencies.

Versatile and Reliable
The Imperial Berkey® System offers versatility and reliability in purifying water. Constructed with highly polished AISI stainless steel, this system ensures durability and longevity. Its upper chamber nests within the lower chamber for easy transport, making it convenient for any occasion. With a storage capacity of about 4.5 gallons (17 liters), you can trust this system to provide clean water consistently.

Powerful Filtration Capacity
Equipped with 2 Black Berkey® Filtration Elements (expandable to 4 or 6), the Imperial Berkey® System delivers exceptional filtration performance. The maximum filtration flow rate of this system, configured with 2 Black Berkey® Filtration Elements, can produce up to 5.5 gallons (20.8 liters) of filtered water per hour. With 6 Black Berkey® Filtration Elements, the system can produce up to 16.5 gallons (62.5 liters) of filtered water per hour. This ensures that your entire group will have access to a reliable supply of clean water.

Quality and Features

Exceptional Construction and Components
The Blemished Imperial Berkey® System features a robust design with quality components. The upper and lower stainless steel chambers, along with the Black Berkey® Filtration Elements, are made and assembled in the USA, ensuring superior craftsmanship. The system includes a stainless steel lid, washers, wingnuts, blocking plugs, a priming button, a spigot, and a rubber gasket to protect the base. Each component contributes to the system's reliability and longevity.

Expandable and Adaptable
The Imperial Berkey® System offers flexibility in meeting your water purification needs. It comes standard with 2 Black Berkey® Filtration Elements but can be expanded to accommodate 4 or 6 elements, depending on your requirements. Additionally, up to 6 Berkey PF-2™ Fluoride and Arsenic Reduction Filters can be installed in the lower chamber for enhanced filtration capabilities. With this level of adaptability, you can customize the system to suit your specific water purification goals.

Your Satisfaction Guaranteed
While blemished systems are sold "as is" without refunds or exchanges for cosmetic defects, we are confident in the performance and quality of our products. Our blemished Berkey® systems provide an affordable option without compromising on the essentials. Enjoy the same exceptional filtration power and long-lasting durability that have made Berkey® the trusted name in water purification.
*The Berkey® stainless steel chambers are assembled in the USA from US and imported parts. The Black Berkey® Elements are made and assembled in the USA.
The Black Berkey® Filtration Elements are the only part of this product that is covered under the manufacturer's warranty
Blemished systems are sold as is – no refunds or exchanges on blemished canisters
These systems are slightly blemished with a minor cosmetic dent or scratch on the stainless steel canister only; there are no functional or performance defects with these systems
This system comes standard with 2 Black Berkey® Filtration Elements but can be expanded to 4 or 6 elements
The versatile Imperial Berkey® System is the ideal system for use with mid to large-sized families, small groups and during unexpected emergencies
Constructed with highly polished AISI stainless steel
Upper chamber nests within lower chamber for transport and stands only 17″ in height
Storage capacity of about 4.5 gallons (17 liters)
Maximum Filters: 6 Black Berkey® Filtration Elements (in upper chamber)
System includes upper and lower stainless steel chambers, 2 Black Berkey® Filtration Elements (expandable to 4 or 6), 1 stainless steel lid, 2 washers, 2 wingnuts, 4 blocking plugs, 1 priming button,1 spigot, 1 rubber gasket to protect the base
Height when in use: 26″
Weight: 10 lbs empty
Diameter: 10″
Serves: 4-8 people
Maximum Filtration Flow Rate:
Configured with 2 Black Berkey® Filtration Elements, the Imperial Berkey® System can produce up to 5.5 gallons (20.8 liters) of filtered water per hour
Configured with 6 Black Berkey® Filtration Elements, Imperial Berkey® System can produce up to 16.5 gallons (62.5 liters) of filtered water per hour
Up to 6 Berkey PF-2™ Fluoride and Arsenic Reduction Filters can be installed in the lower chamber if desired
Specifications
Blemished Imperial Berkey® System (4.5 gal)