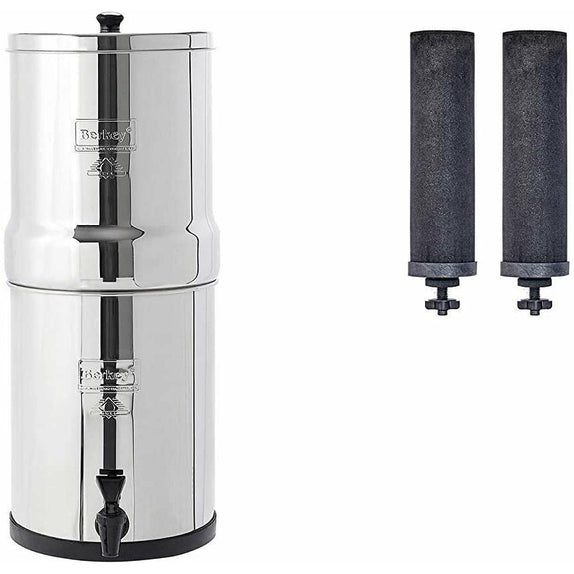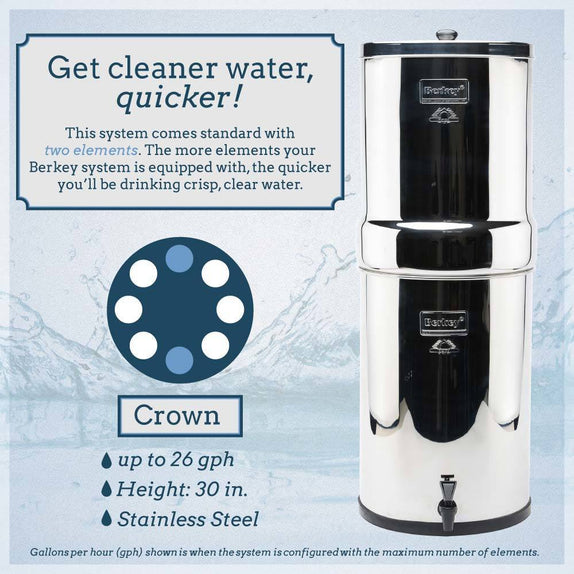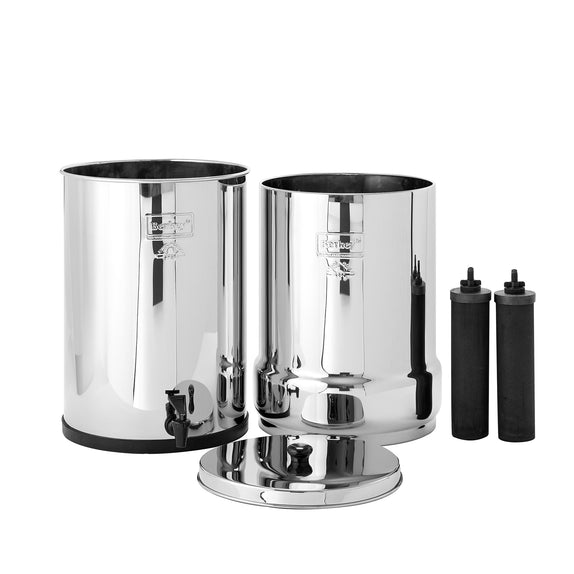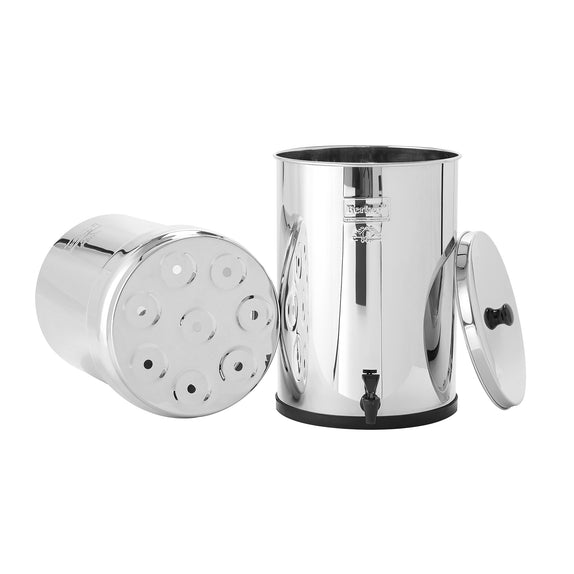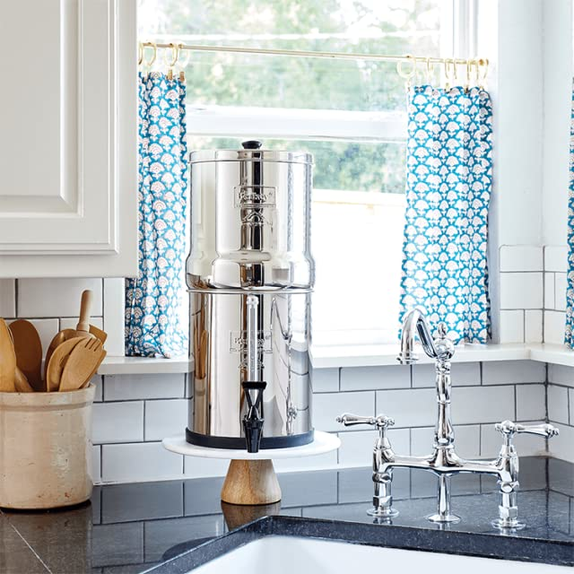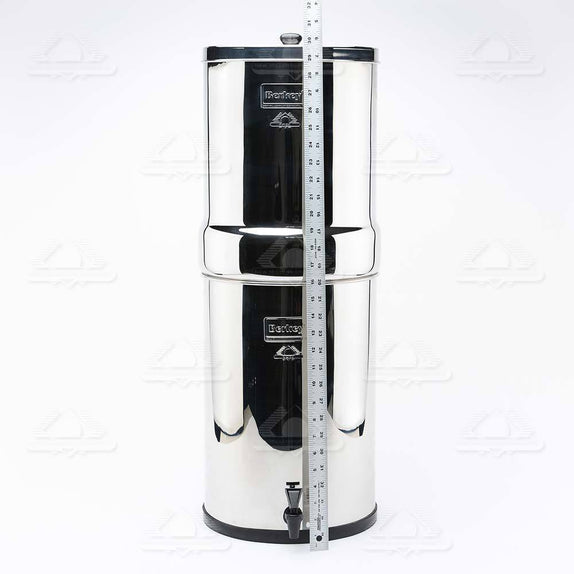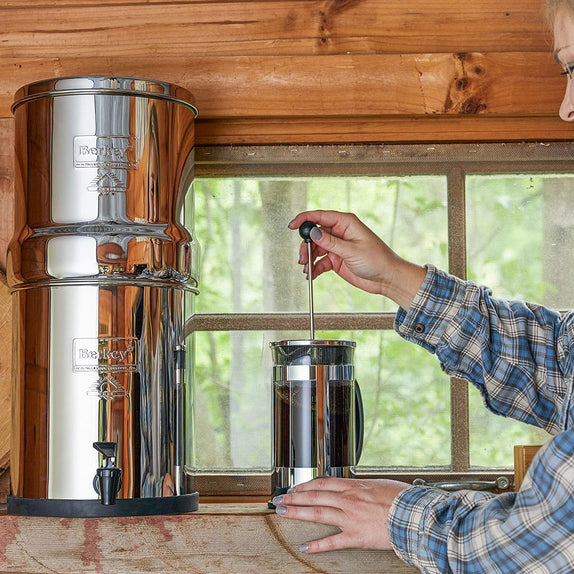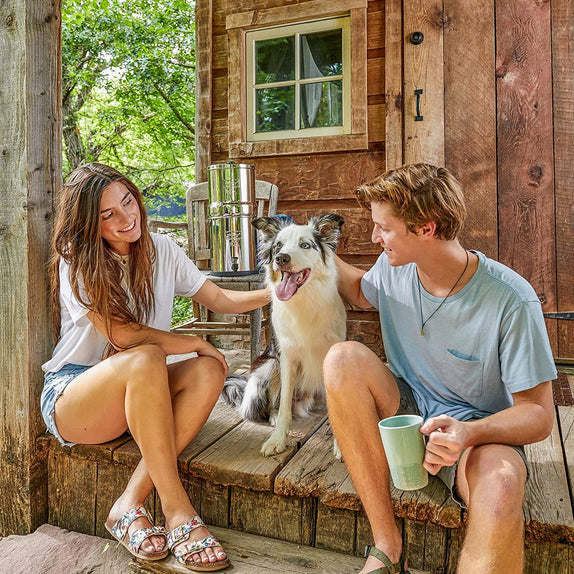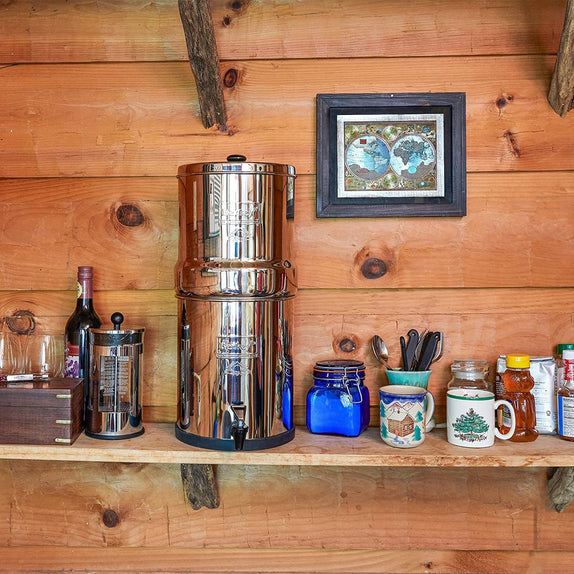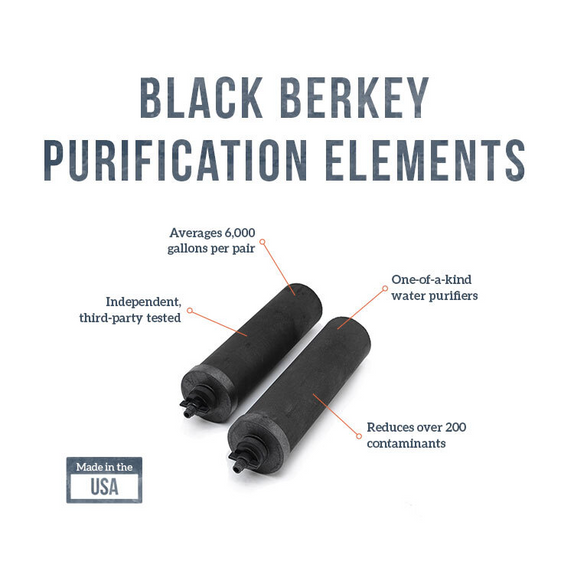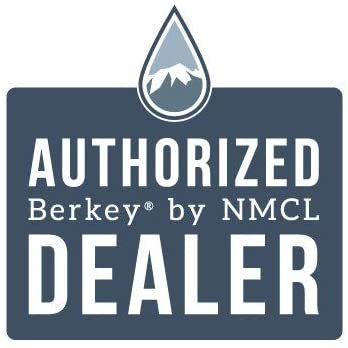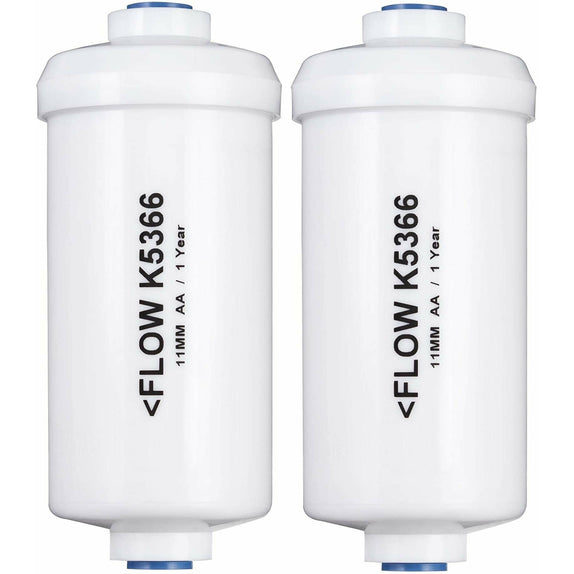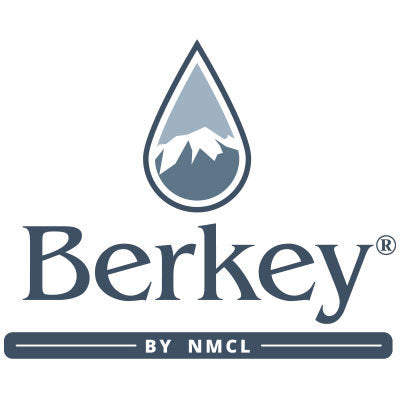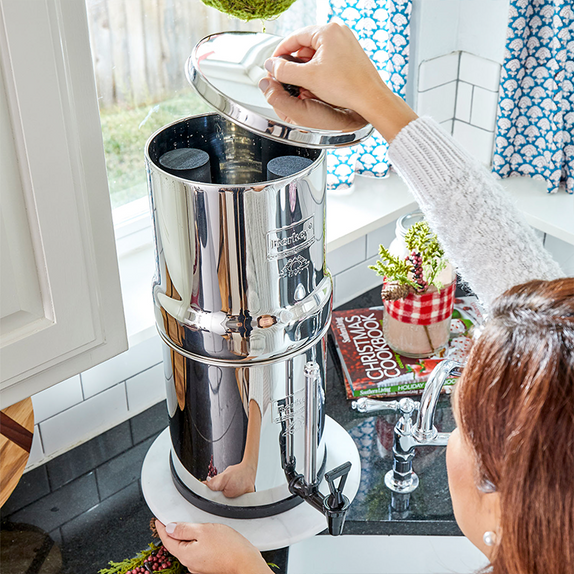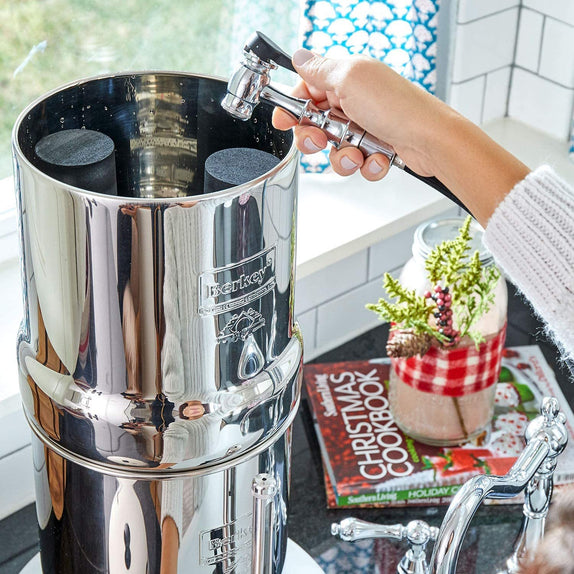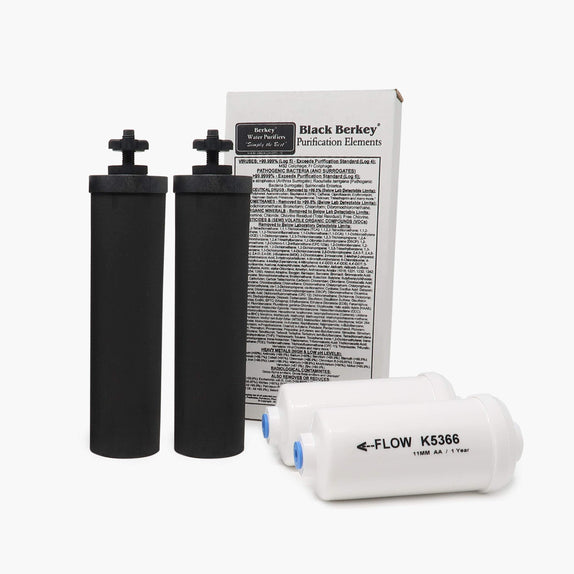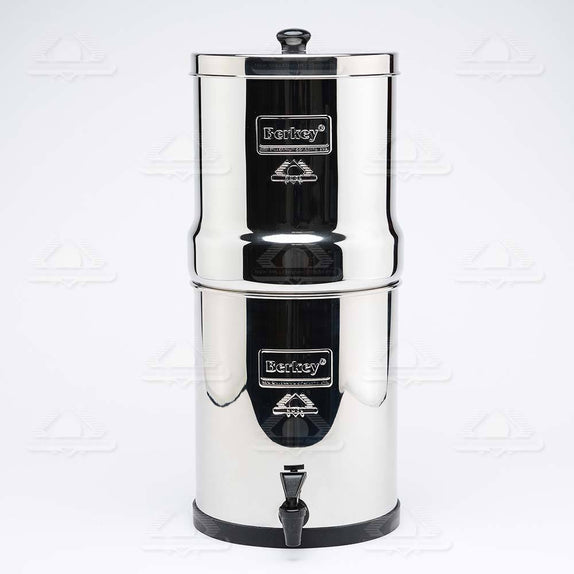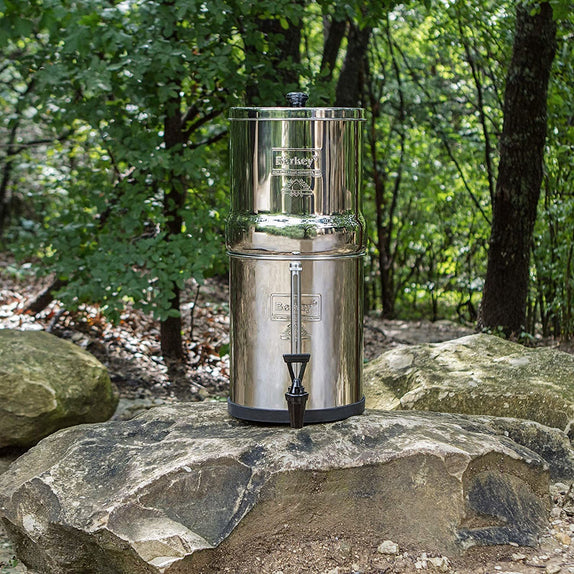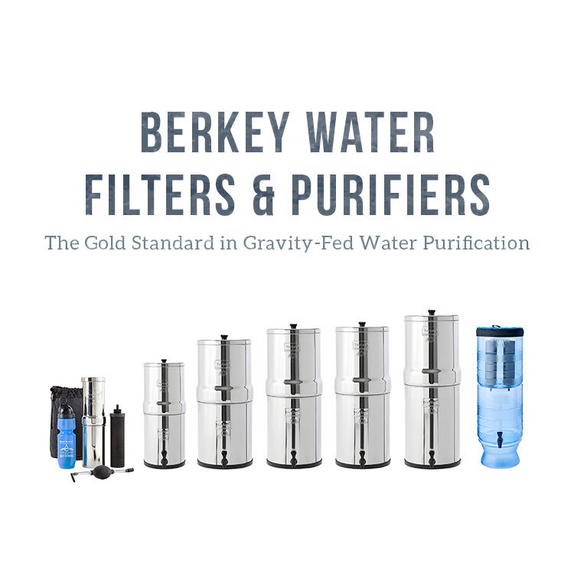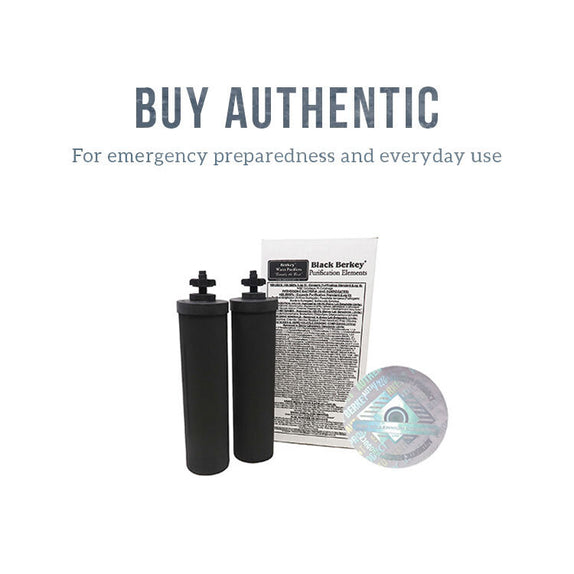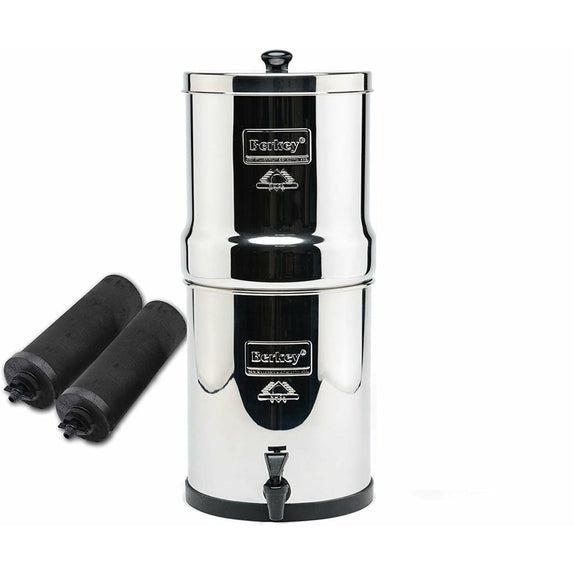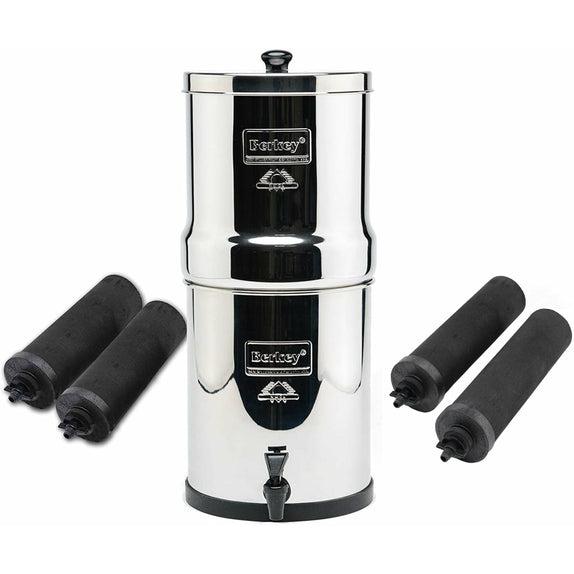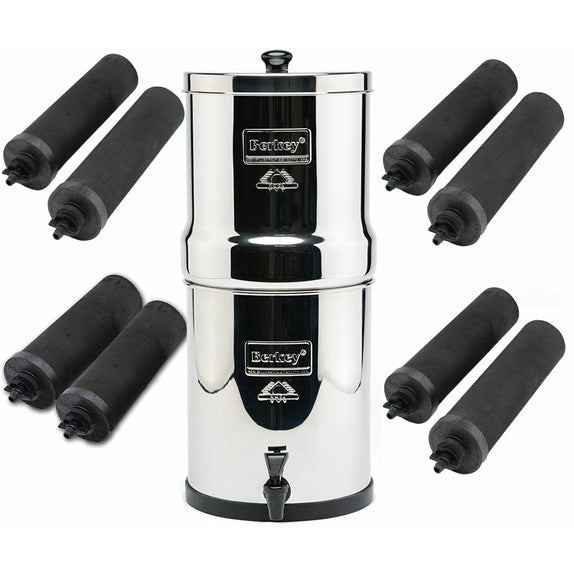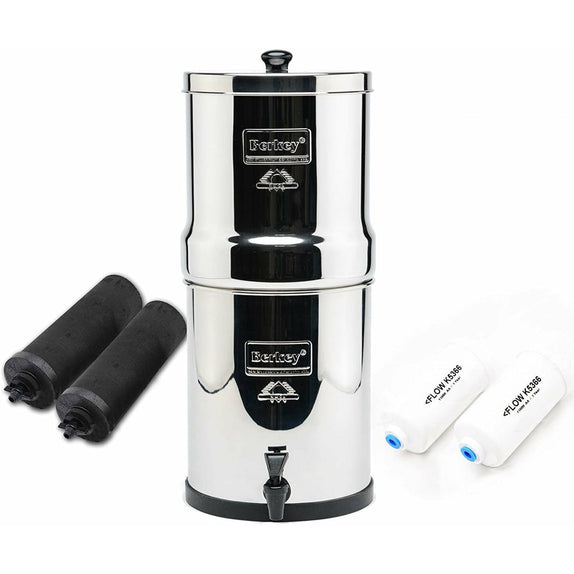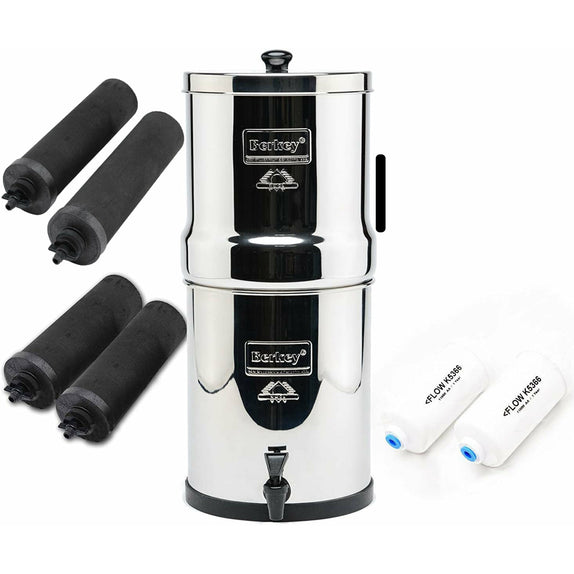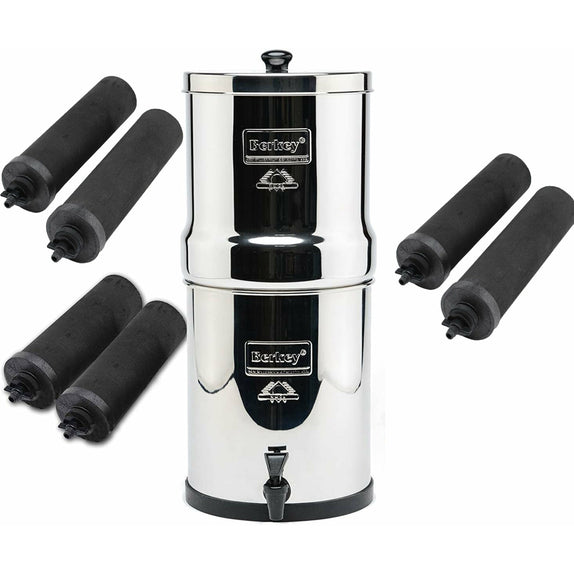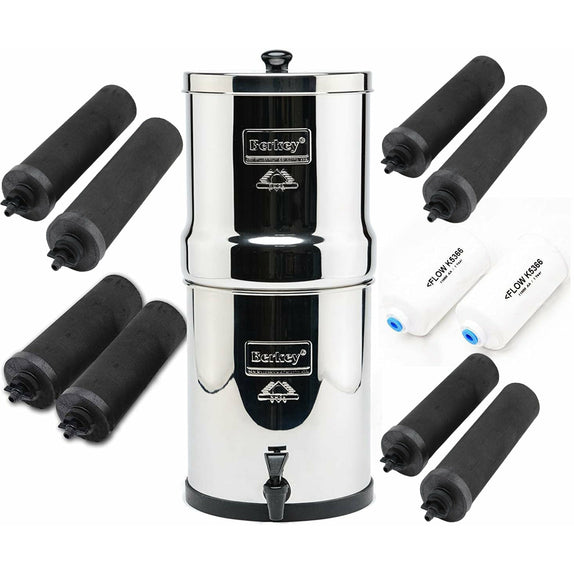 Crown Berkey Water Filter System Includes 2 Black Berkey Filters
6 Gallons
30 in. Height - 11 in. Diameter
highly polished AISI 304 stainless steel
6-12 People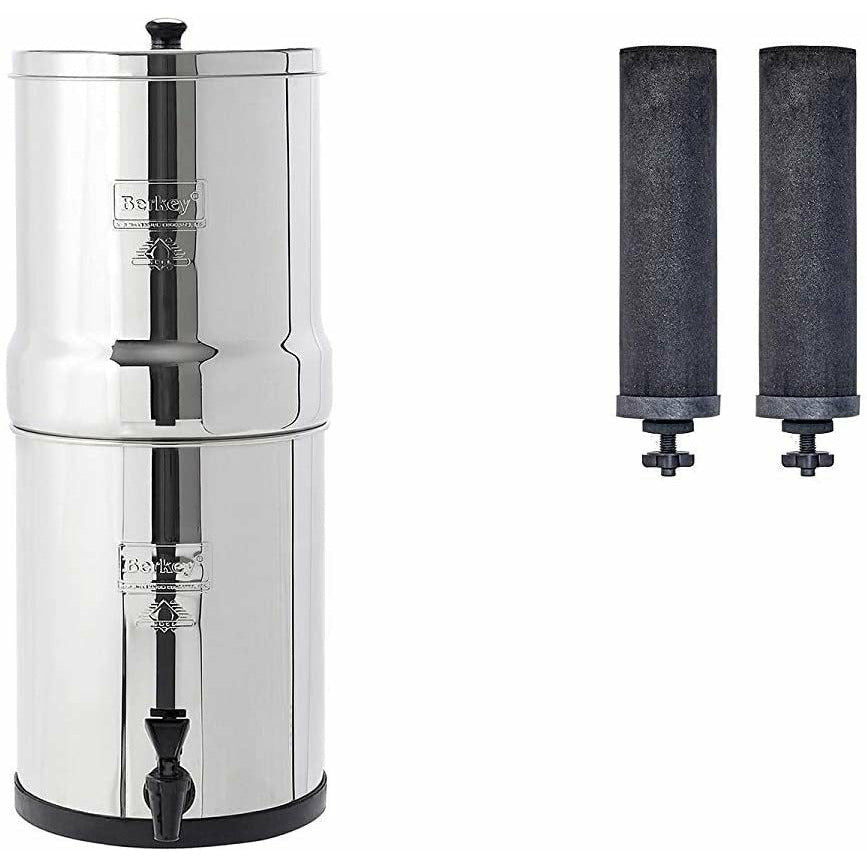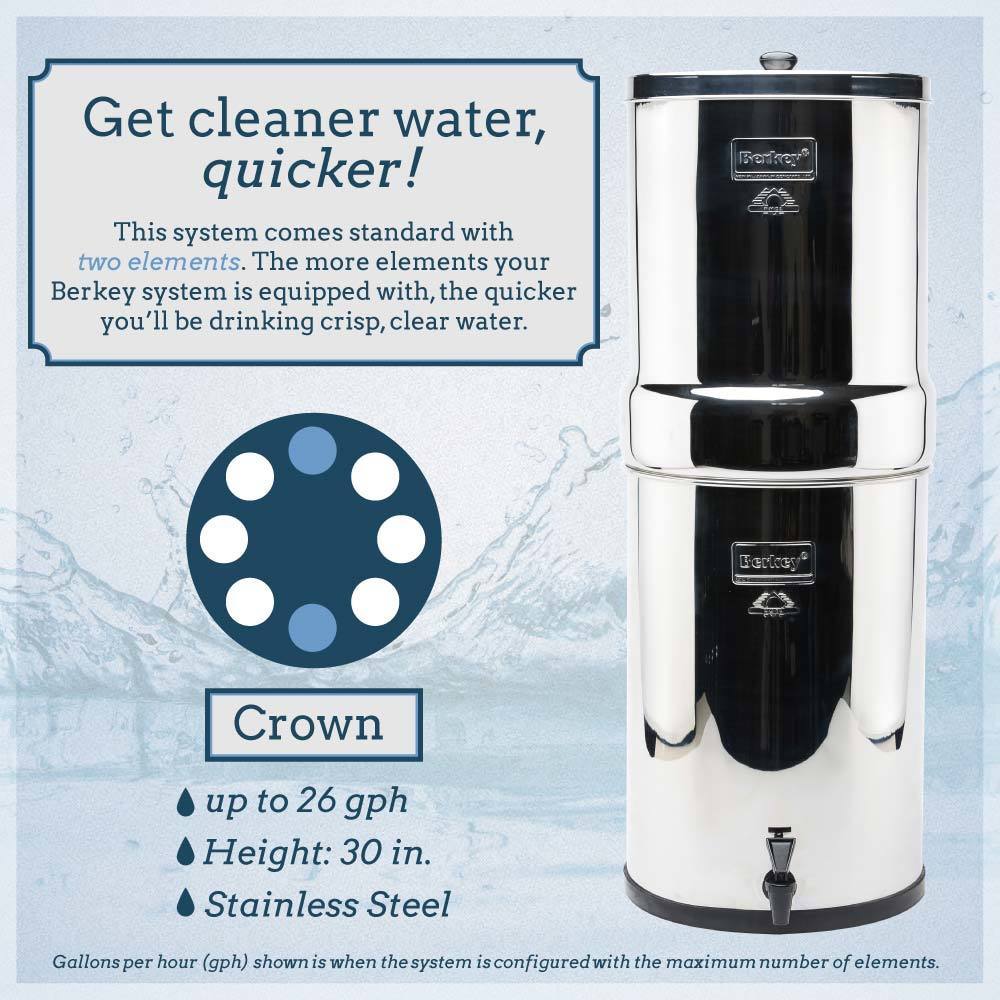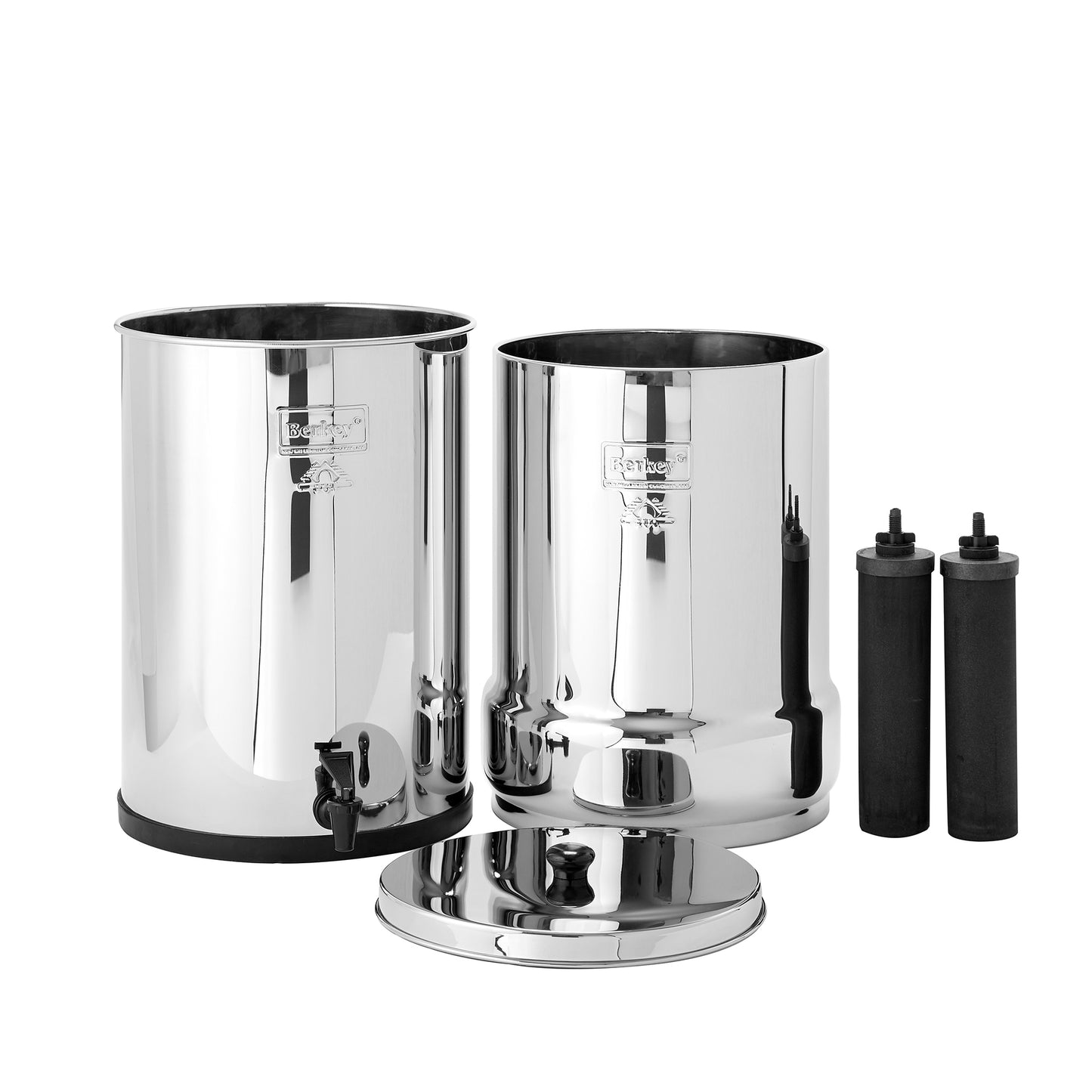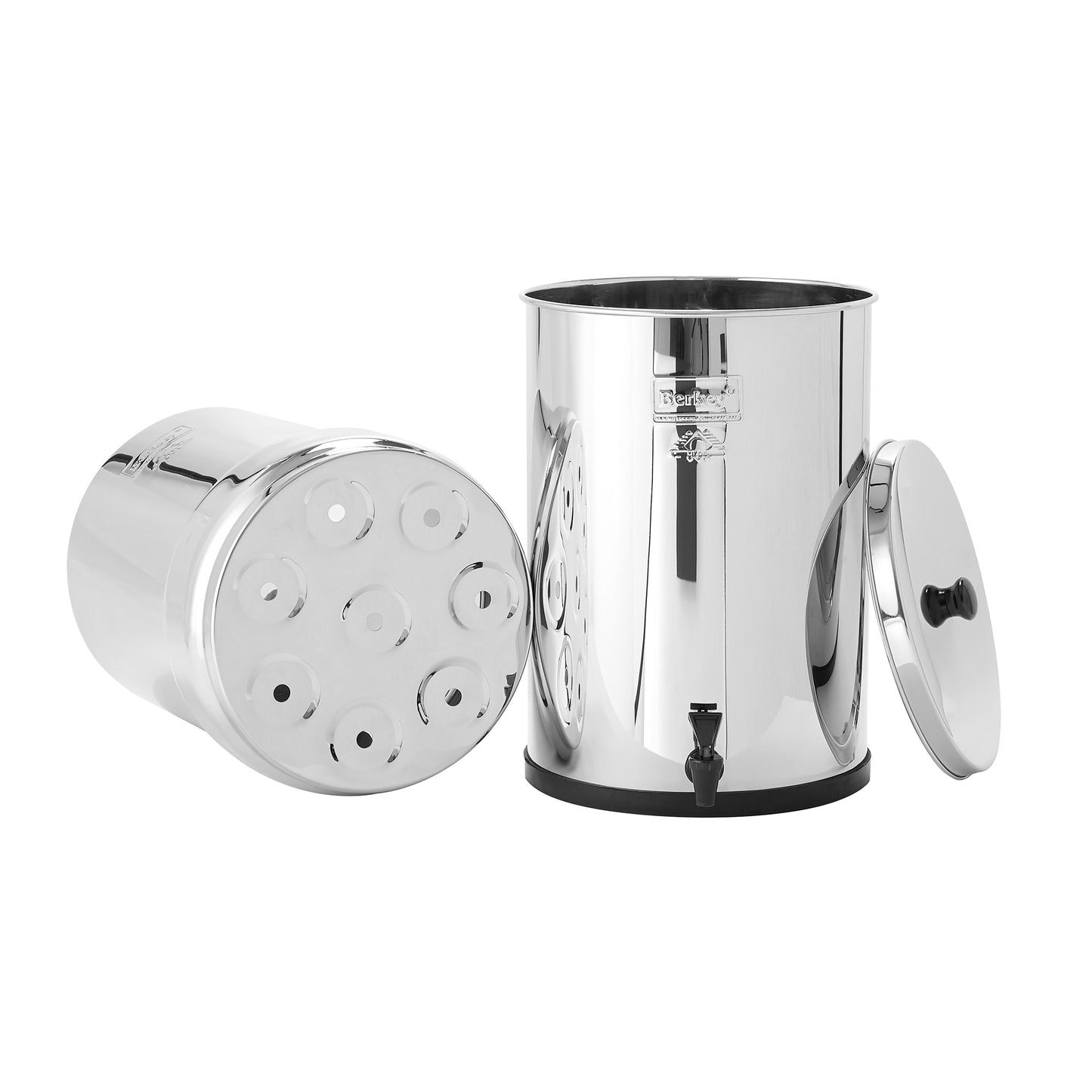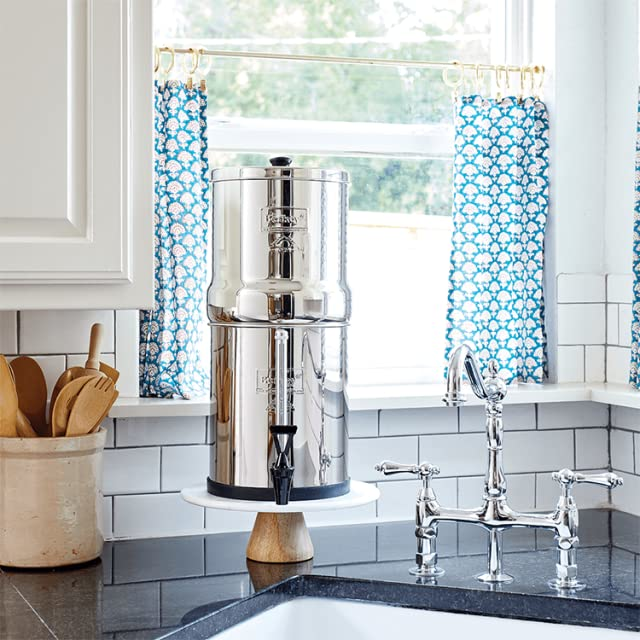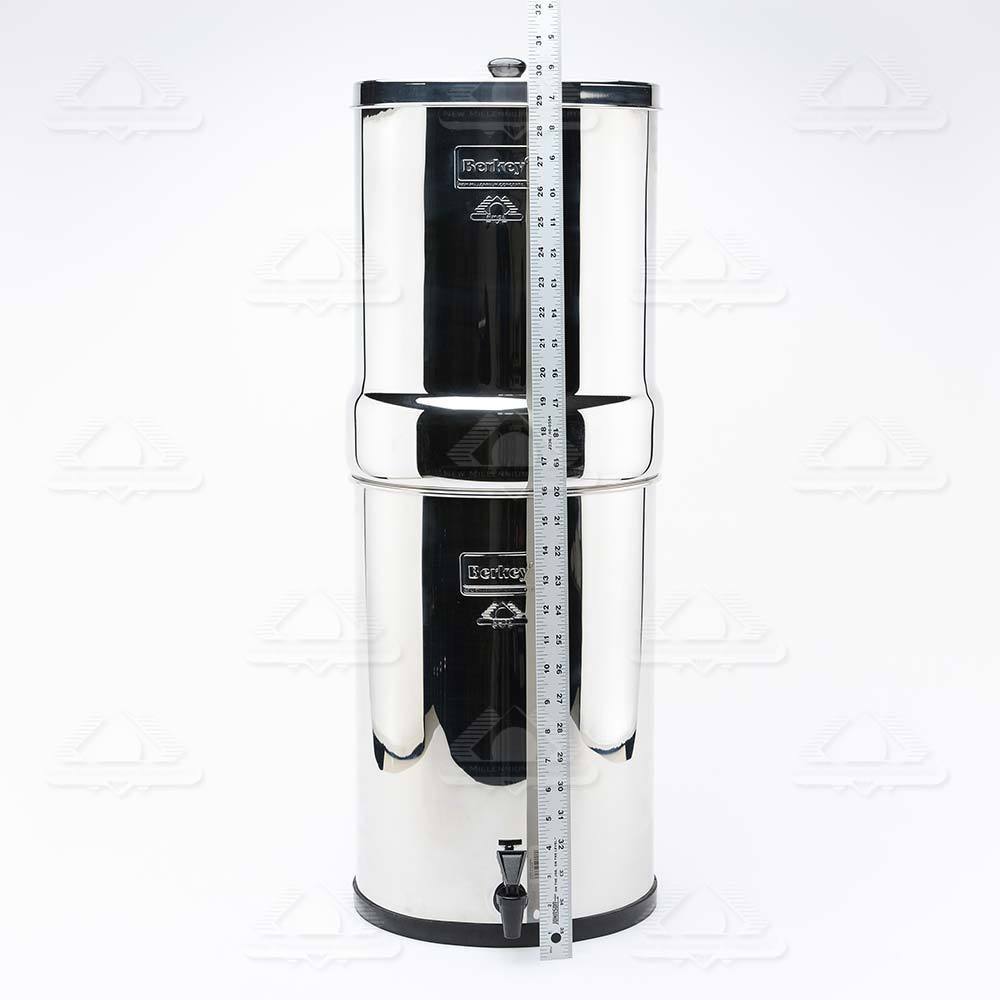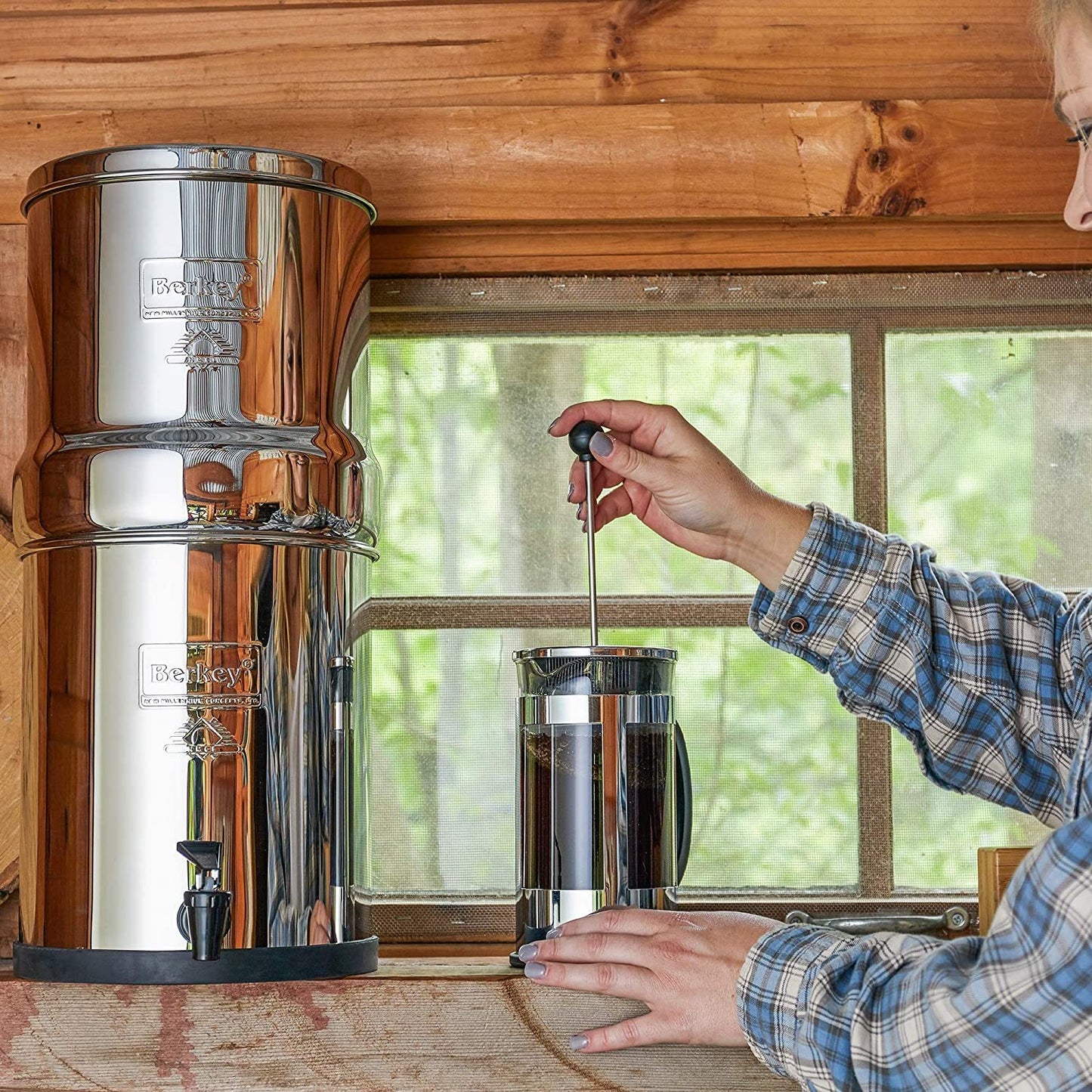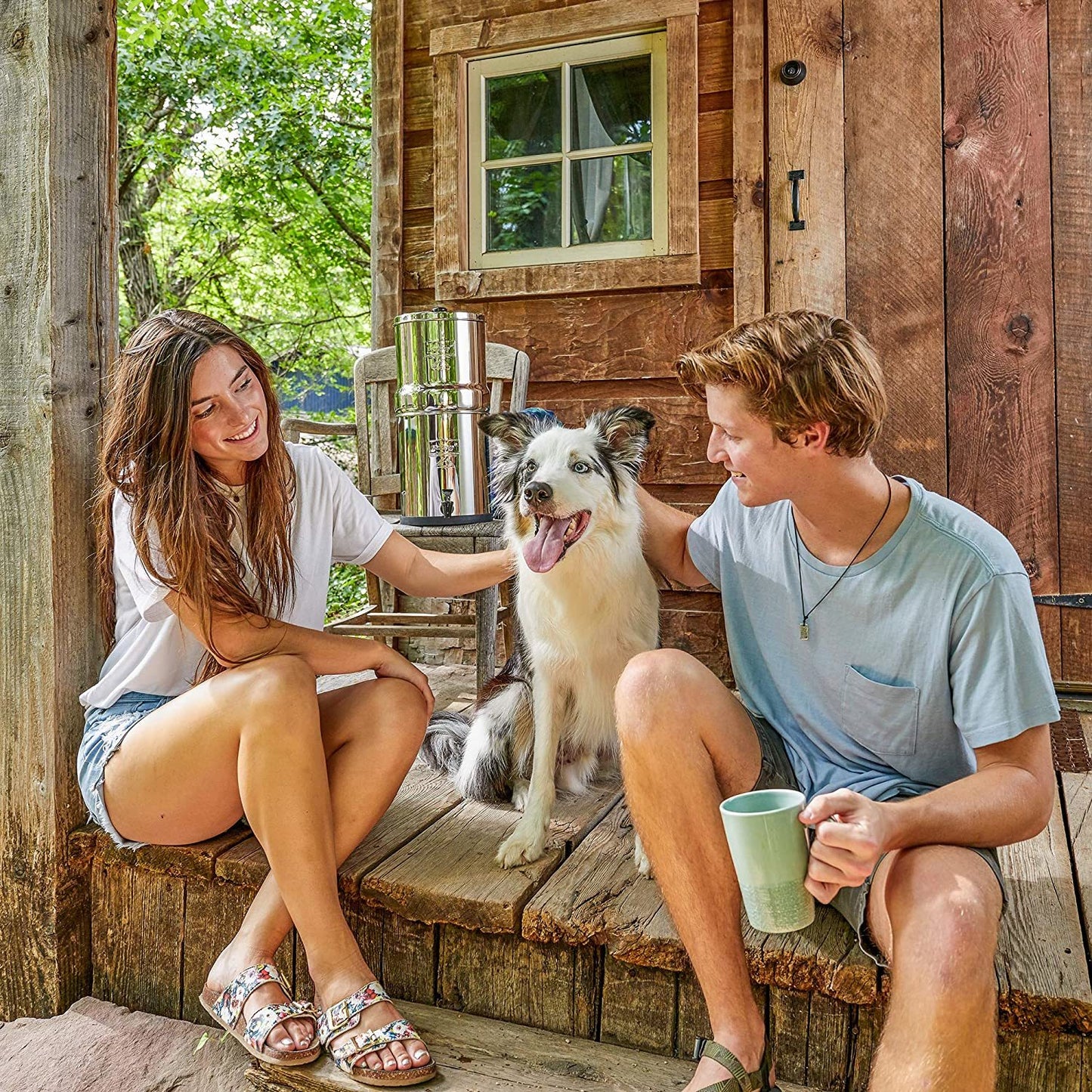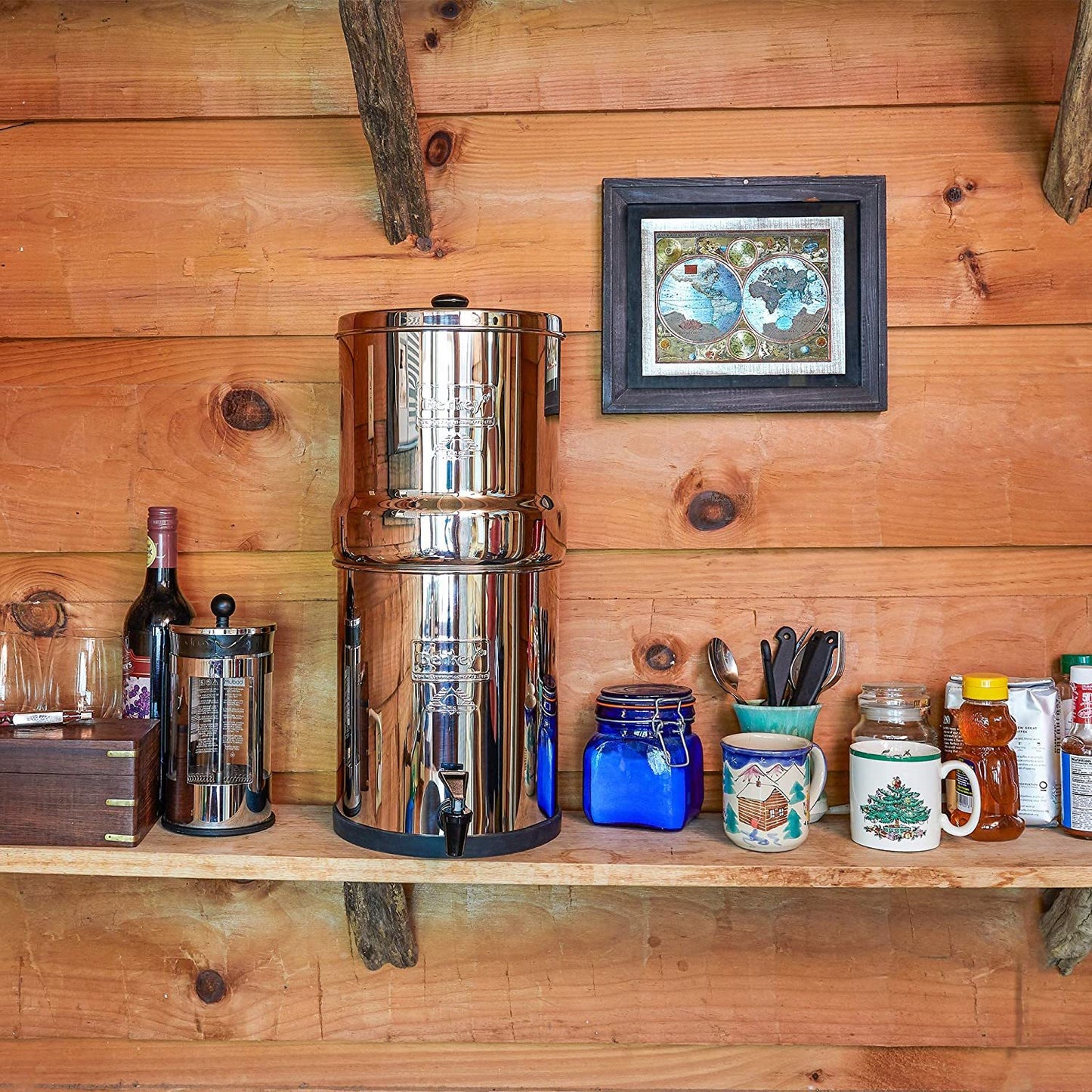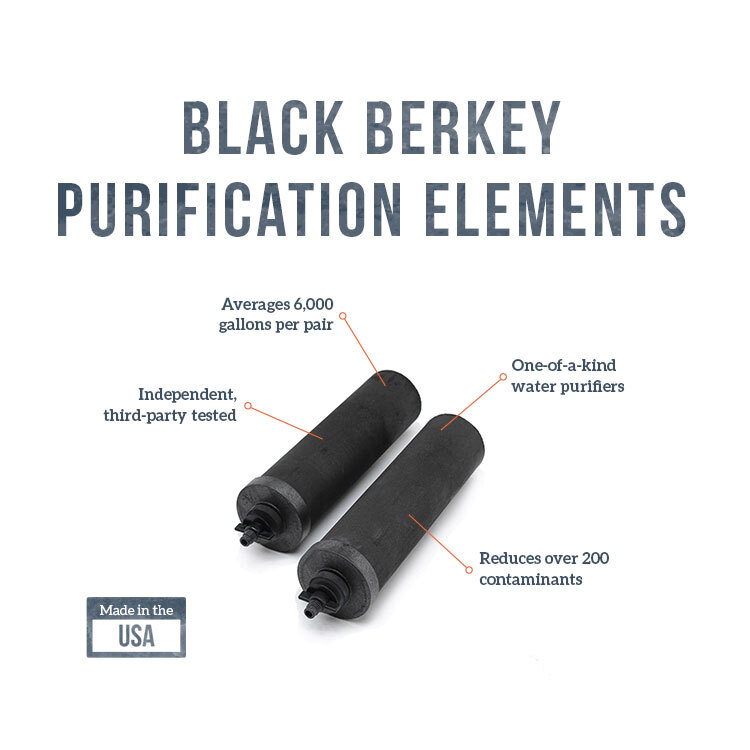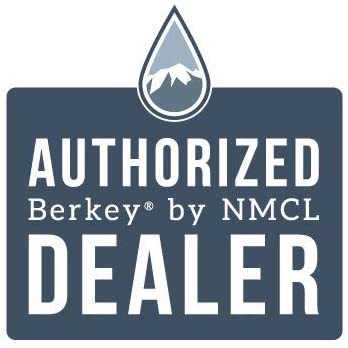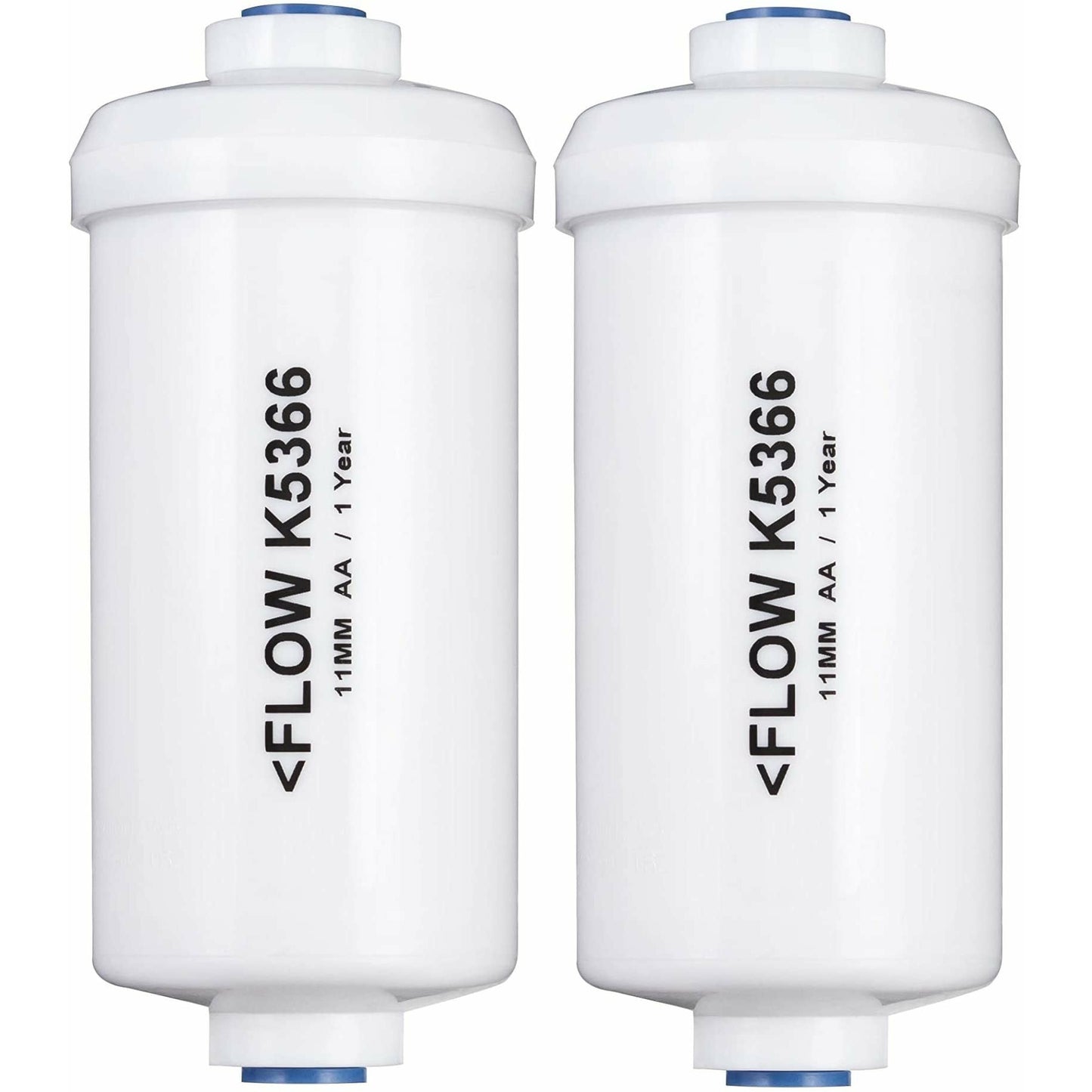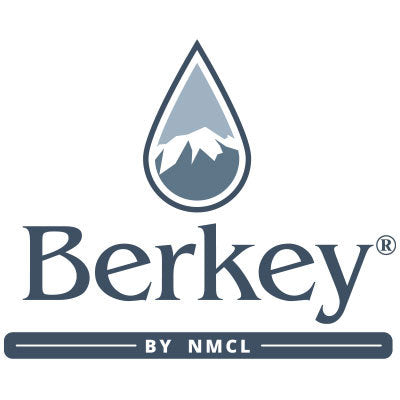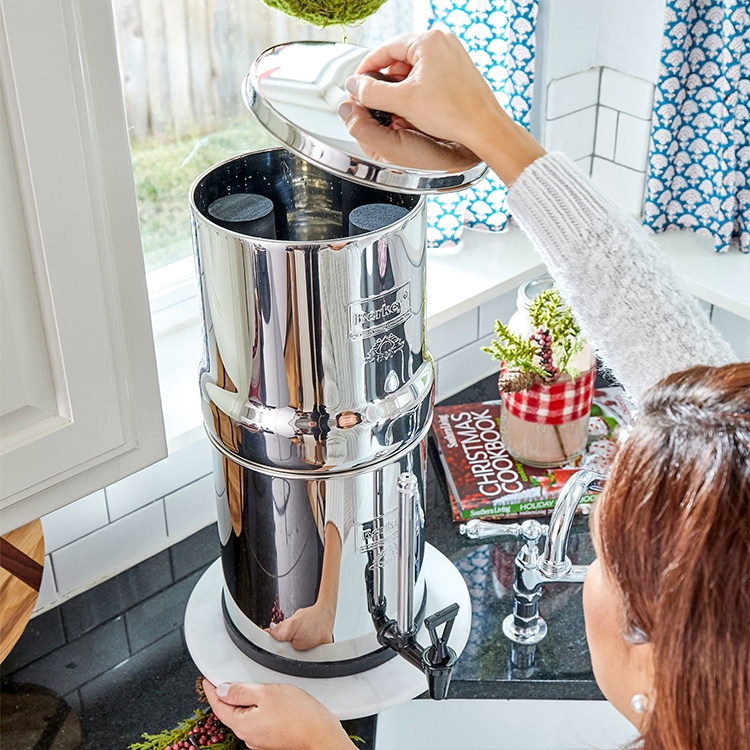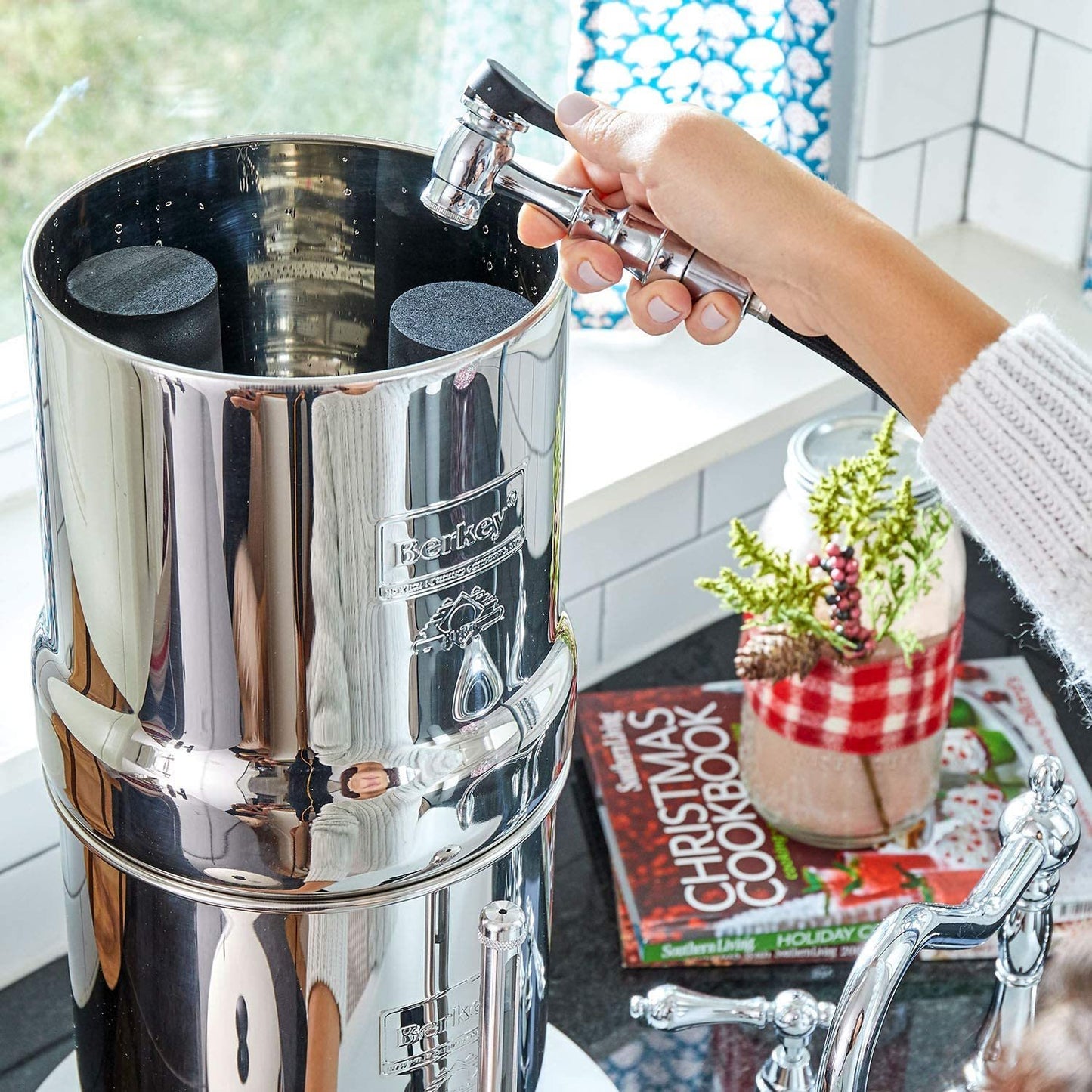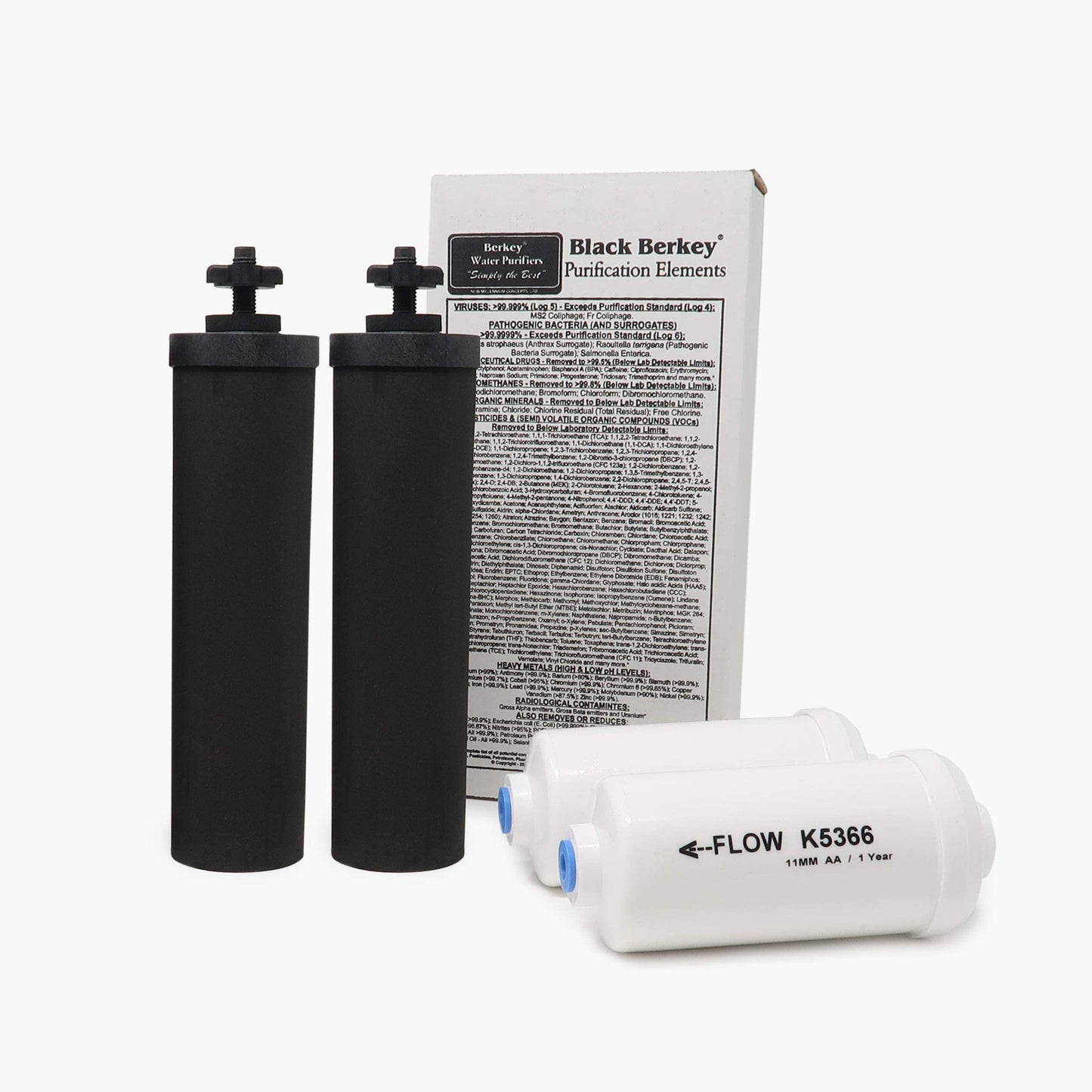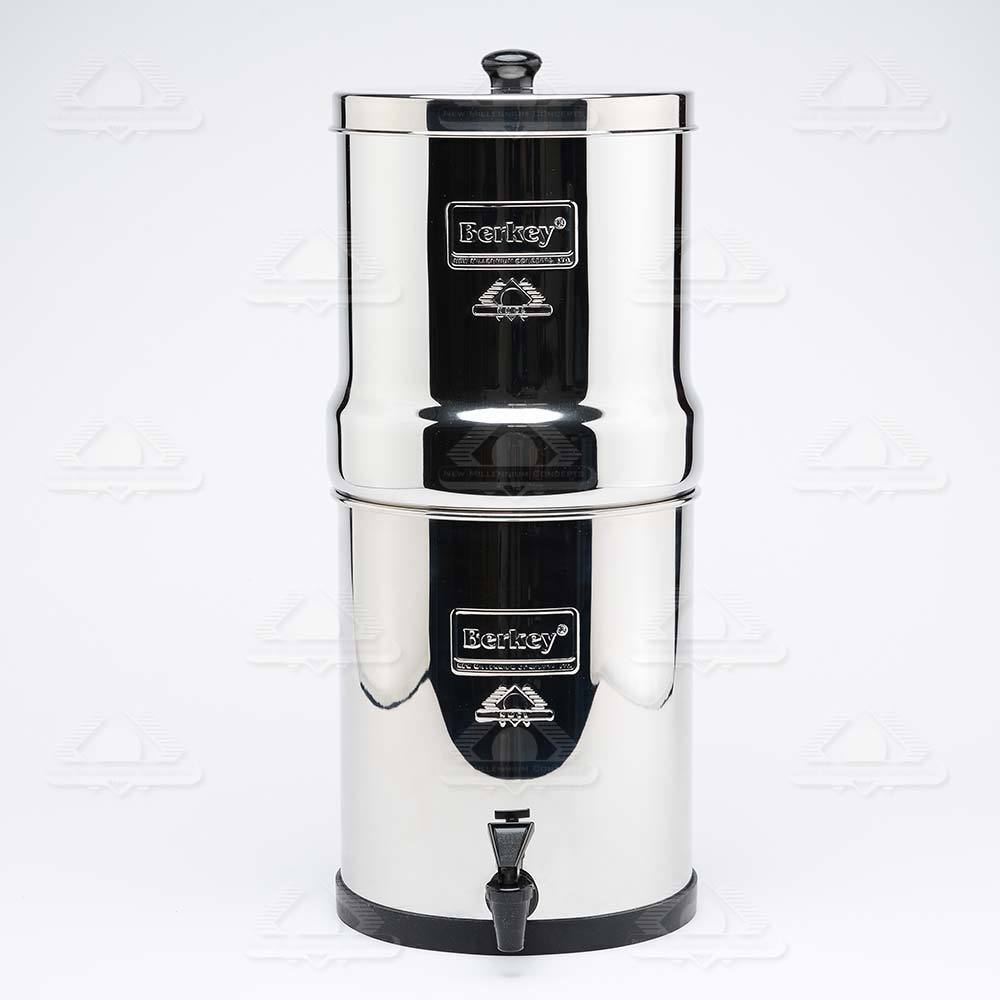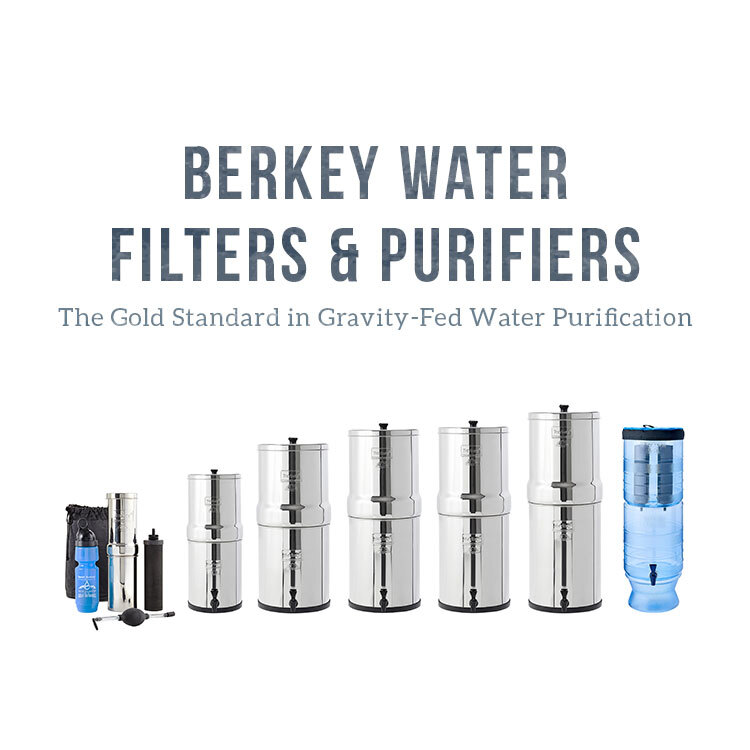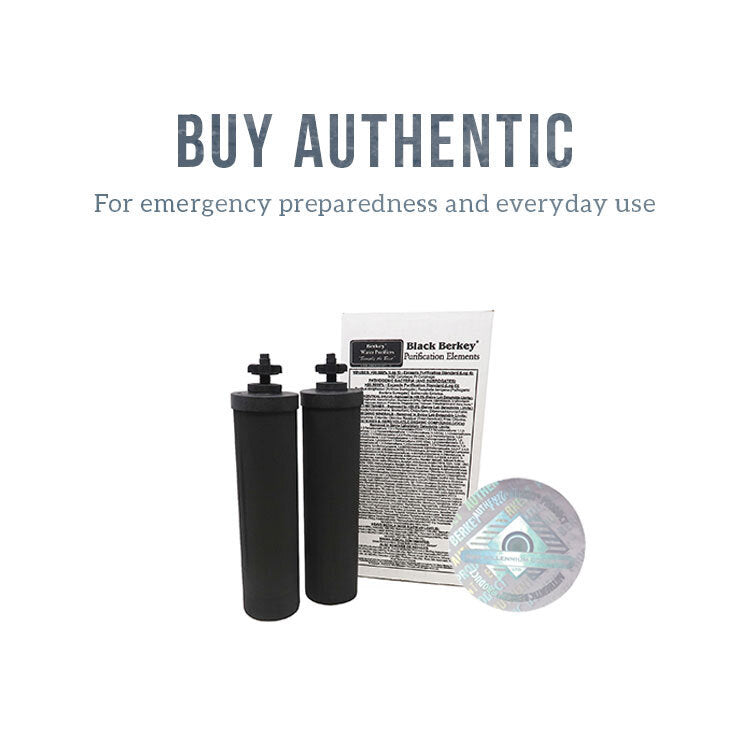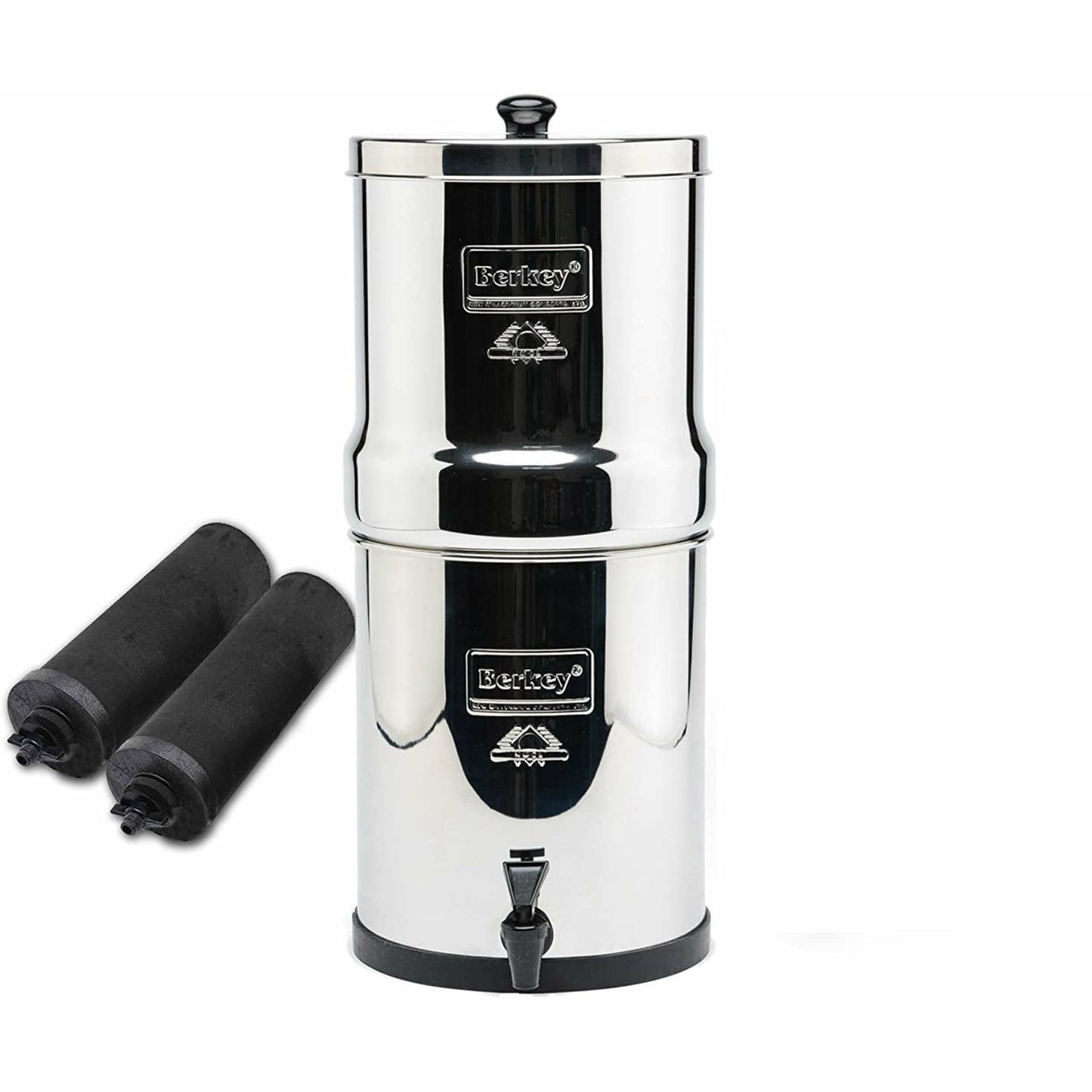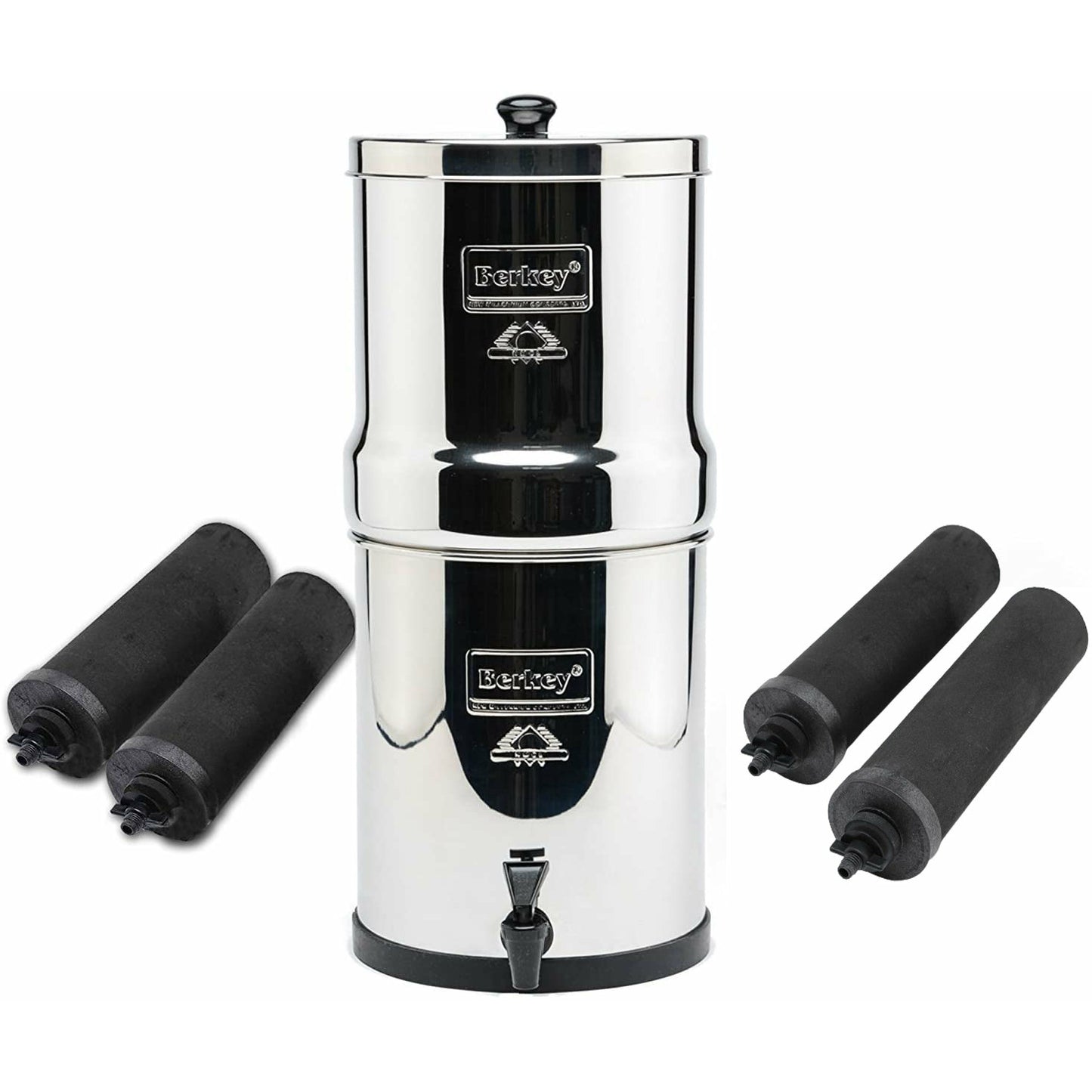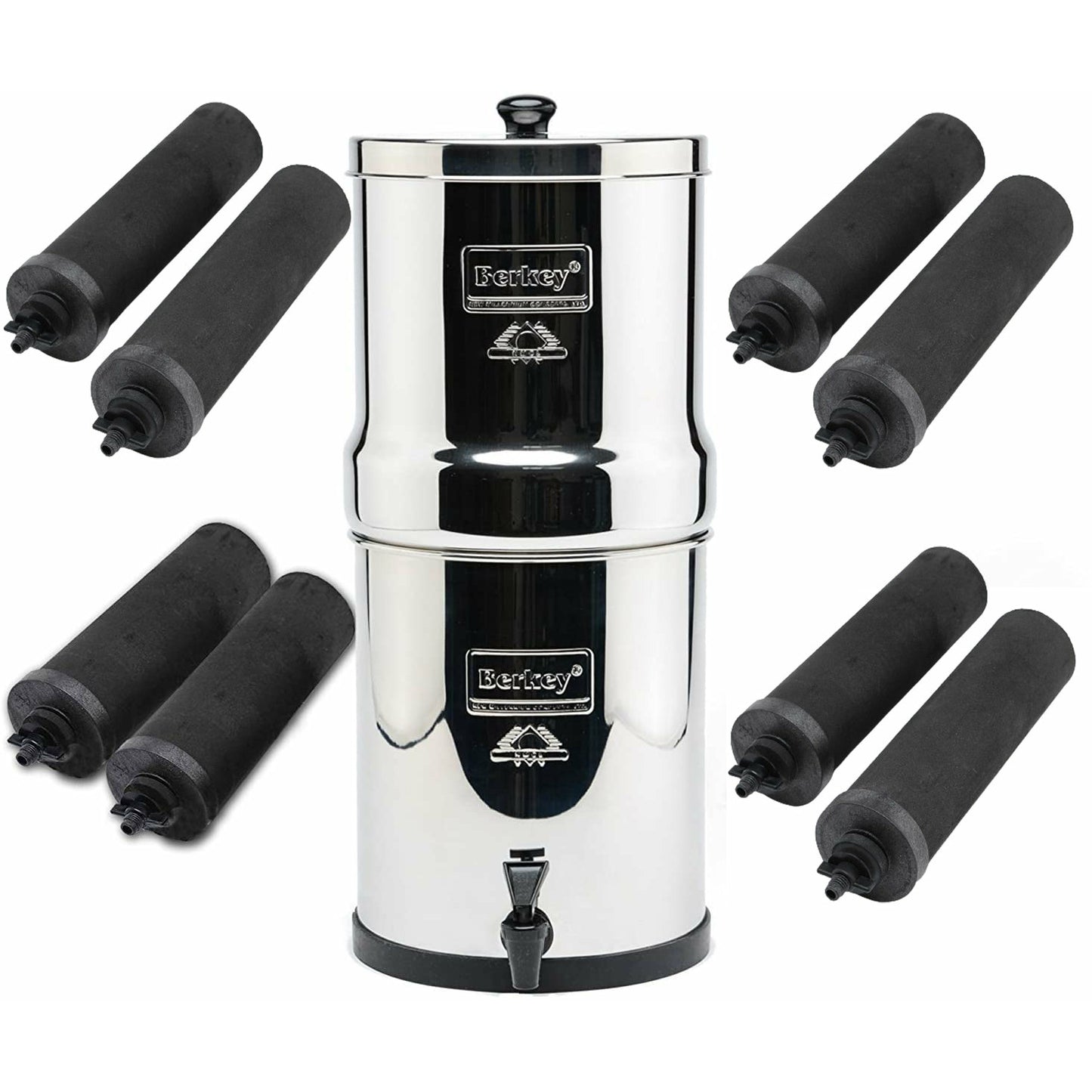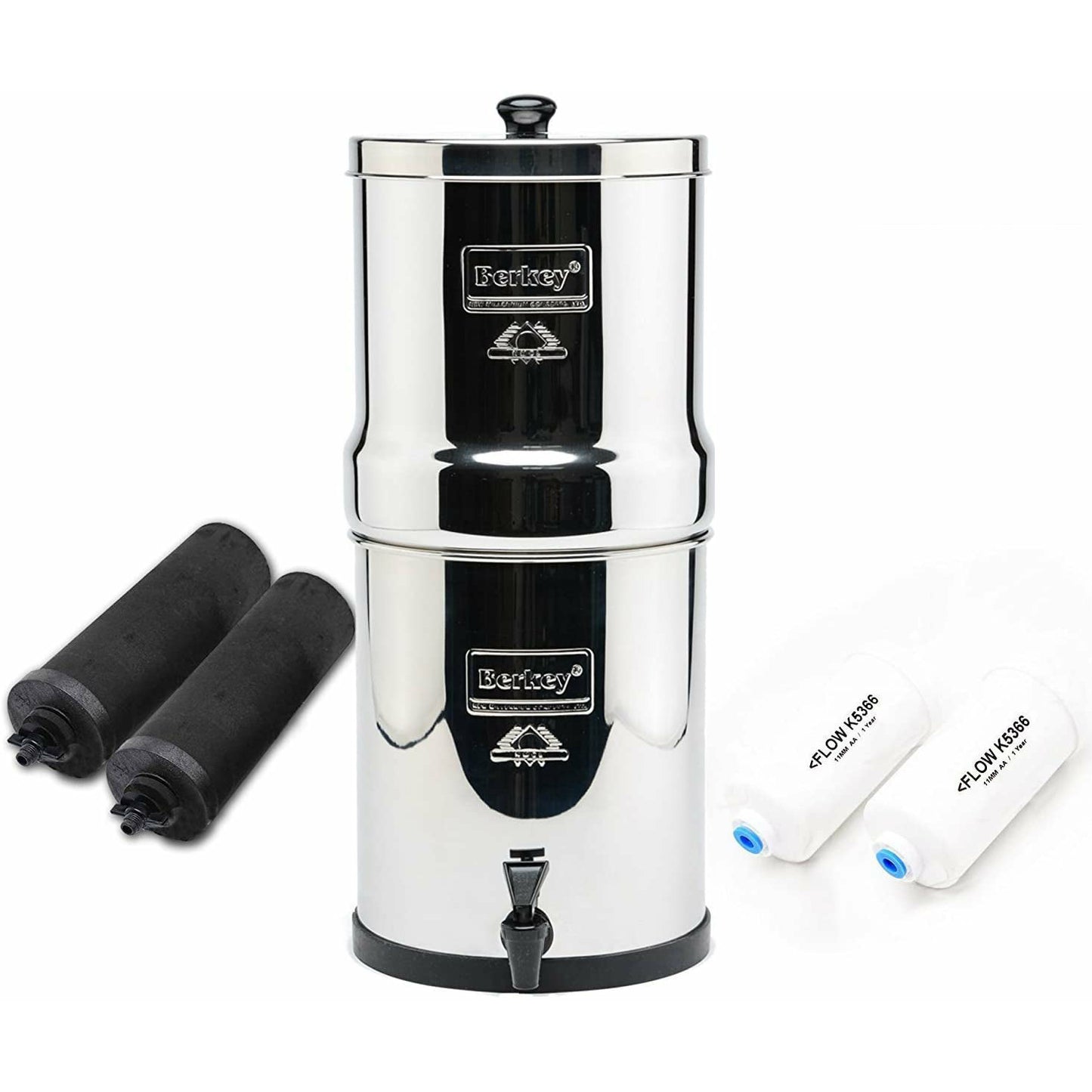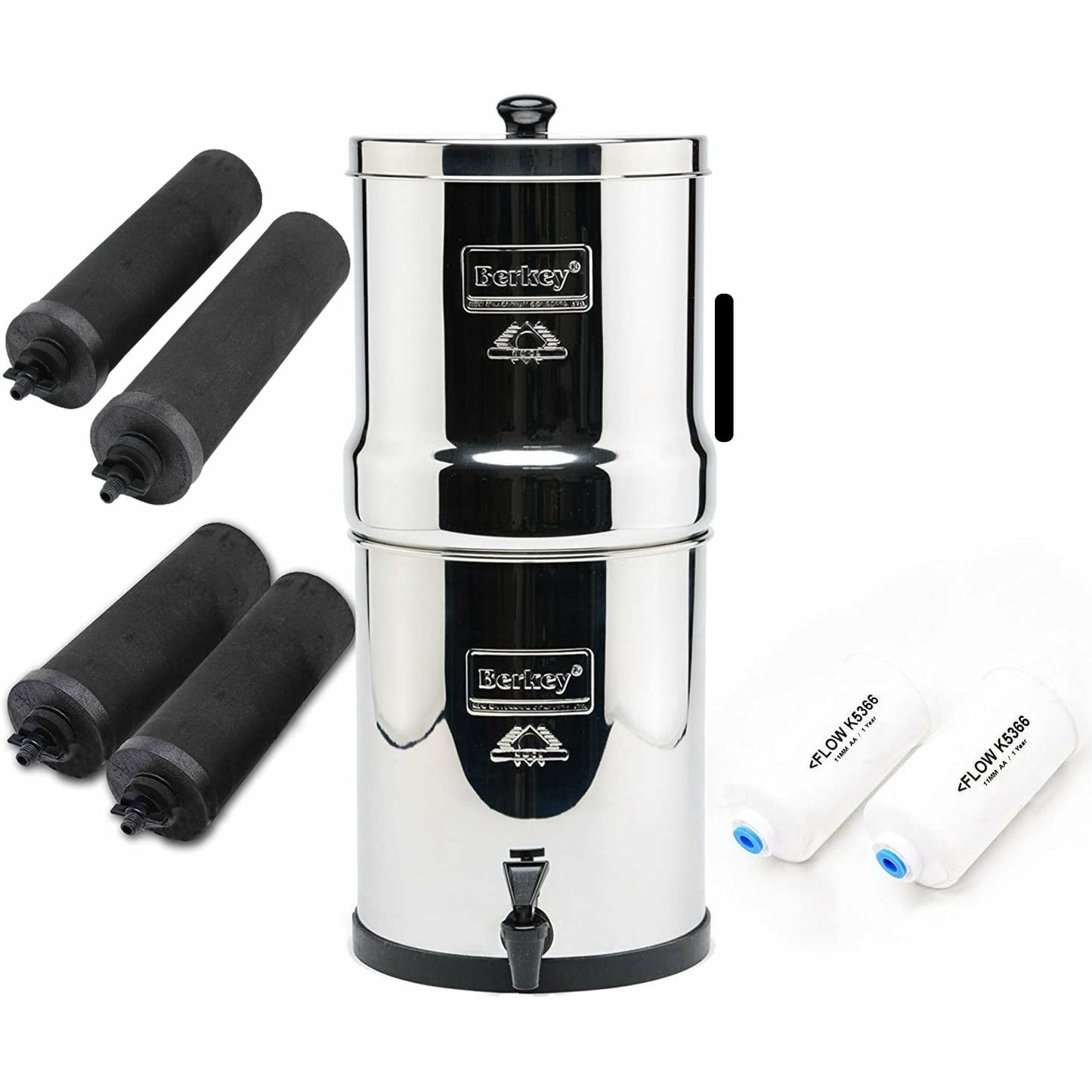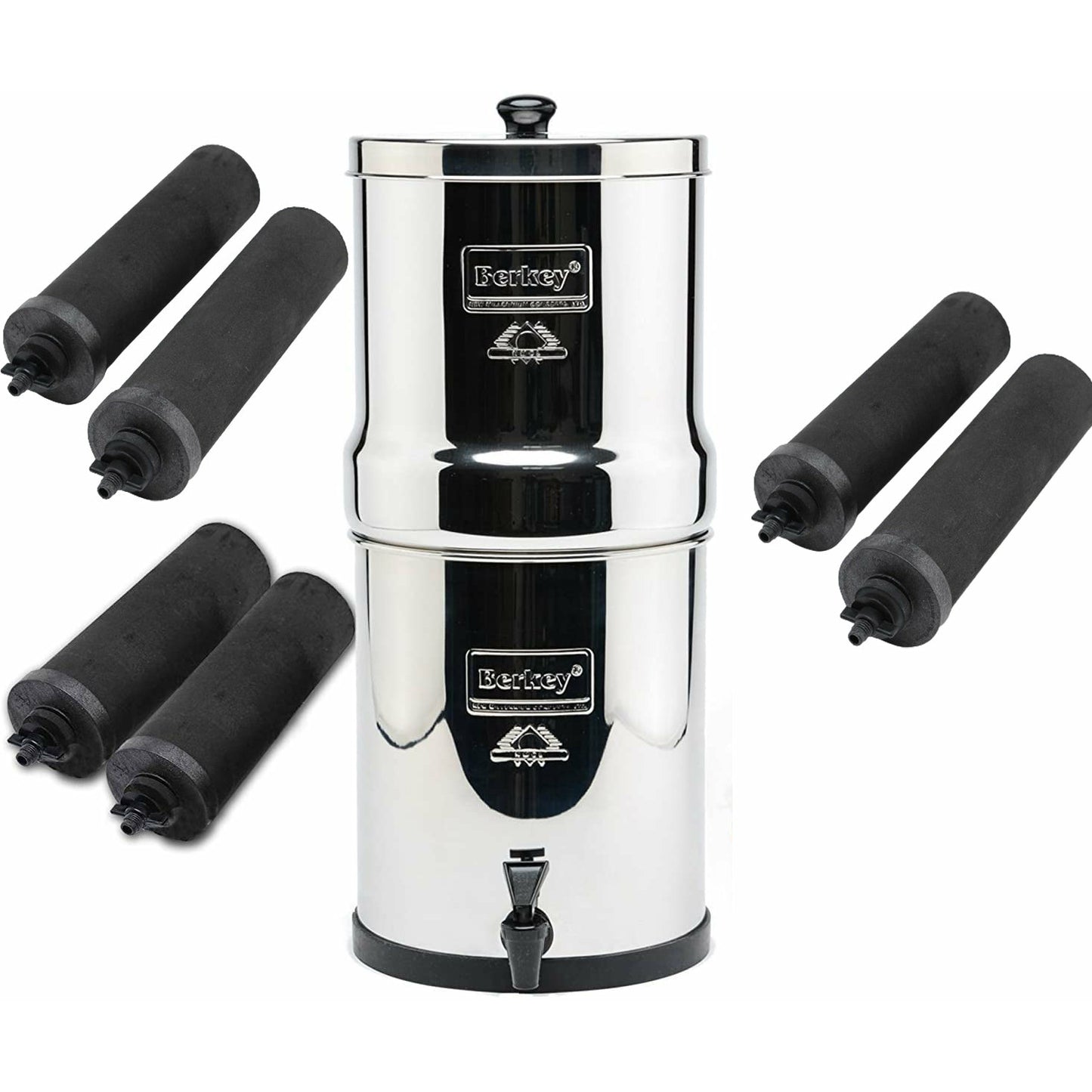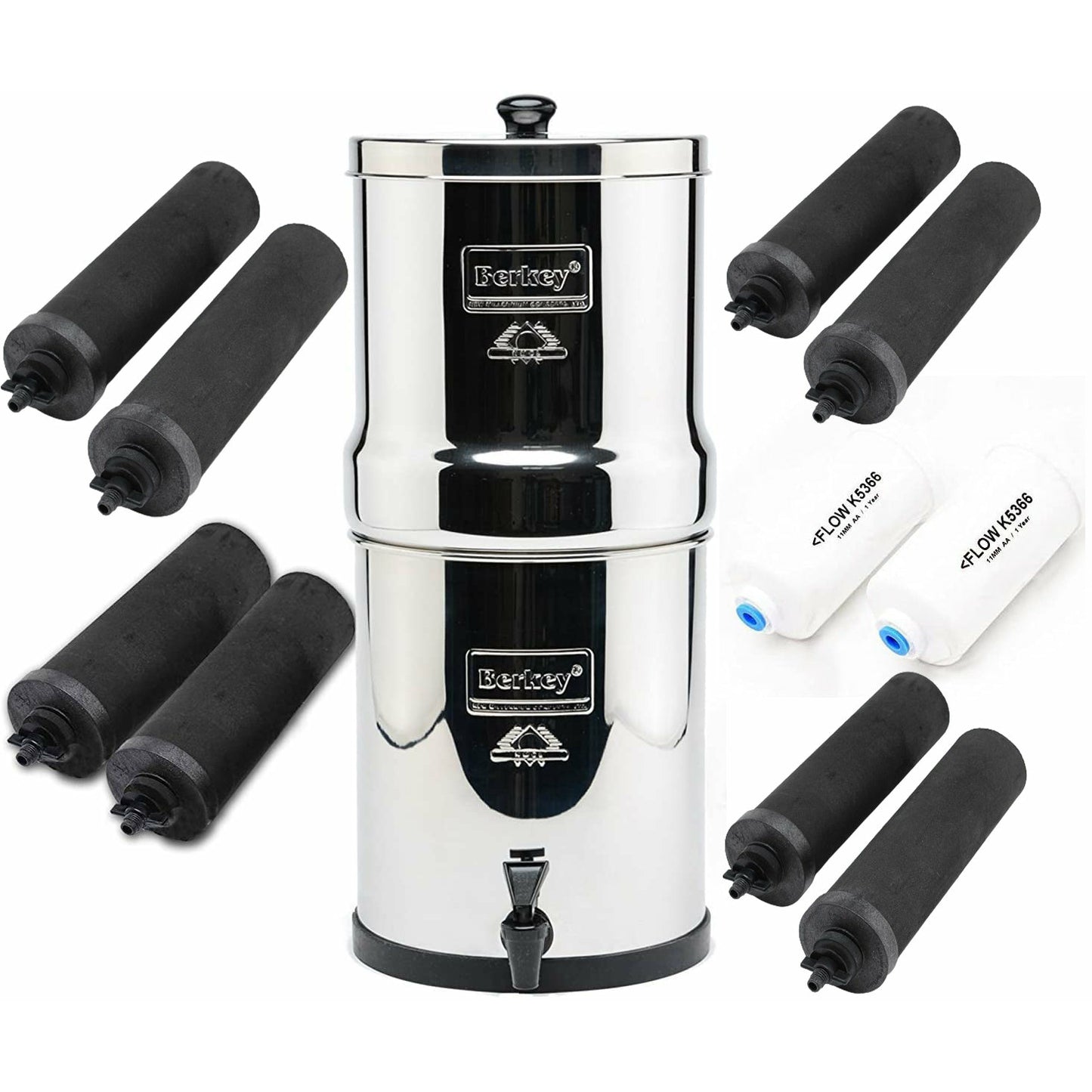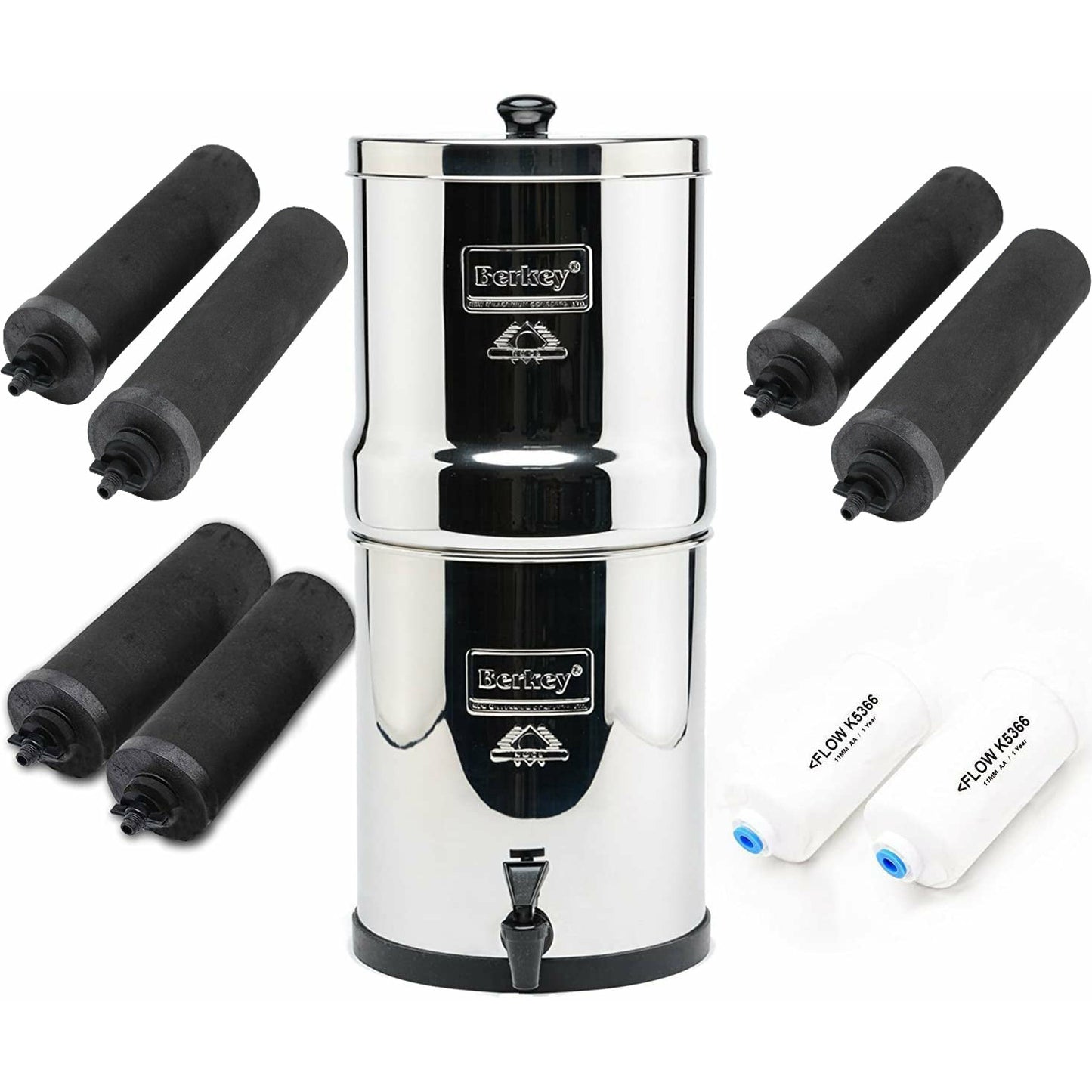 The Crown Berkey Water Filter System is a crucial part of any family's well-being. The water you bring into the house comes from a variety of sources – the very clean practice of not using any chemicals, pollution, can all affect your well-being. The Berkey system mechanically removes unwanted chemicals, contaminants, and metals from your water using a high-precision diatomaceous earth filter. 
Crown Berkey Water Filter System is the most widely adopted water filter in America. Our Berkey water filters are widely used by people who care about their health, their families, and their environment. The very first stage of Berkey's filtering process is gravity filtration, which mechanically removes 99% of dissolved solids such as heavy metals, chemicals, and organic compounds from tap water required to make it safe to drink.
With this water filter system, your whole family will enjoy clean, fresh water. 
This product is ideal for those living in tight areas or wanting to conserve precious resources.
FREE SHIPPING. SAME-DAY PROCESSING. 30-DAY FREE RETURNS.
6 GALLON CAPACITY- The portable Crown Berkey System effortlessly filters water for about 6-12 people each day. Add additional Black Berkey  Elements (the Crown Berkey System can hold a maximum of 8) to increase the flow rate. The system is just 30" tall and 11" in diameter.
POWERFUL FILTERATION - Berkey systems equipped with Black Berkey  Elements filters water, while also removing or dramatically reducing protozoa (such as giardia and cryptosporidium), trihalomethanes, inorganic minerals, heavy metals (including arsenic, lead, mercury, chromium), pharmaceutical drugs (including caffeine, Acetaminophen, Ibuprofen, Progesterone, Triclosan),
ECONOMICAL, LONG-LASTING- A pair of Black Berkey Elements lasts for up to 6,000 gallons before needing replacement. Each additional pair of elements (sold separately) adds an additional 6,000 gallons of filtration  power to your system. Black Berkey  Elements average just 2 cents per gallon of cleaned  water.
INDEPENDENT TESTING- Berkey by NMCL uses several independent third-party labs to test a broad range of potential contaminants and conducts Extreme Testing for lead and PFCs in order to show the effectiveness of our Black Berkey  Elements.
DRINK CONFIDENTLY VIRTUALLY ANYWHERE- No electricity, tools, or plumbing required. Travel the world, prepare for emergencies, and take control of your family's everyday drinking water with your Berkey gravity-fed water filtration system with Black Berkey elements. Enjoy delicious, nourishing water from the leader in gravity-fed water solutions.
Specifications
Crown Berkey System
Capacity:
Height:
Diameter:
Weight:
Material:

highly polished AISI 304 stainless steel

Max Flow Rate:

Used with 8 Elements, it can purify up to 26 gallons per hour

Spigot Material:

BPA-free high-impact FDA-grade black polypropylene plastic.

Storage Dimensions:
2 Black Berkey Purification Elements
Capacity:

Filters 3000 gallons per unit

Height:
Diameter:
Included in the box
Upper and bottom chambers,
2 black filters,
Spigot,
2 wing nuts,
Primer ring
How do I store my Black Berkey® Purification Elements?
If you are going to be leaving the system unattended for 3-4 days or less, remove the elements from the top chamber and drain out any water within them. Once drained, place them in a sealable bag while the carbon is still damp and force out any air in the bag. Store the elements in the front of your refrigerator to maintain freshness while not exposing them to the colder temperatures in the back of the fridge. Store the purifiers this way for no more than two weeks. Re-prime the elements before reinstalling them in your Berkey® System.
If you will be storing your elements for more than 3-4 days, remove the purifiers and thoroughly dry them. You can do this by either placing them on a windowsill that's exposed to sunlight for 1-2 days, or by drying them with the Black Berkey Primer™. Once they are bone-dry, store the purifiers in a sealable bag at room temperature. The elements will have an indefinite shelf-life as long as they are stored this way. Re-prime the elements before reinstalling them in your Berkey® System.
How do I know when my Black Berkey® Purification Elements need to be replaced?
Black Berkey®Purification Elements can last up to 6,000 gallons per pair of elements. You can estimate your usage by calculating how many times you refill your system a week and multiplying that by how many gallons your system holds.
Why aren't my Black Berkey® Purification Elements letting any water through?
It's most-likely that the purifiers need to be cleaned or primed properly. This can be done by scrubbing the elements with a Scotch-Brite pad (or something similar) under running water and then re-priming them.
What is the difference between the different Berkey models? Is it just the size of the unit or is one a better system and filters out more?
The Berkey product line ranges in size from the Go Berkey all the way to the Crown Berkey. The only difference in these different systems is their size. All of them use the same Black Berkey Purification Elements technology and all of them filter water the exact same way.
If the crown Berkey comes with 2 black filters--are the plugs for the other holes included?
YES. Hole Plugs Come with all systems, except the Travel, to fill unused Filter holes.
I just purchased My crown Berkey and does not drip and it pours into the bottom after filling. Is that normal?
YES. It is completely normal, in fact, your Berkey system is not designed to fully drain from the top chamber once it reaches the bottom plastic base of the Black Berkey® Elements. It really is all about "head pressure."