Royal Berkey Water Filter System Includes 2 Black Berkey Filters
3.25 Gallons
24 in. Height - 9.5 in. Diameter
304 stainless steel
2-6 People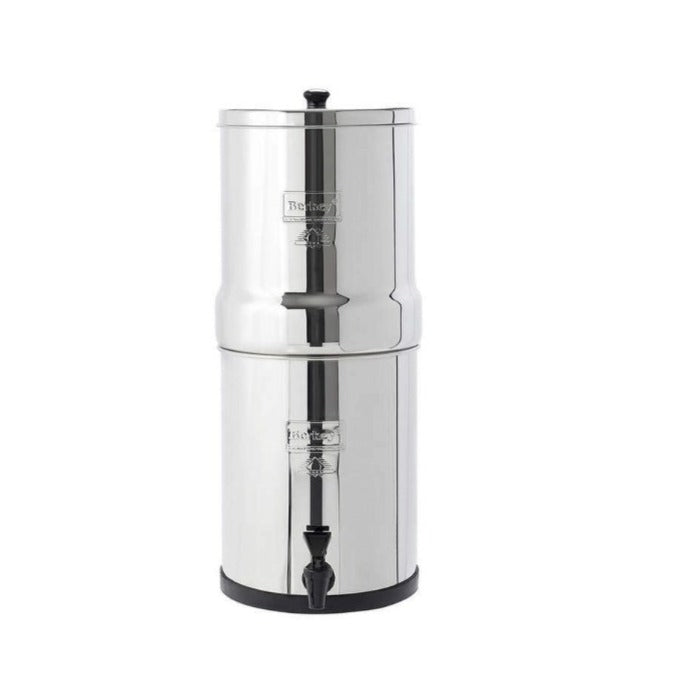 Fill your home with pure, delicious water that is harmless to you and the environment. Royal Berkey Water Filter System is designed to help provide the best clean water for your family. The 2-Black Berkey Filters remove most of the chemicals and bad taste from your tap water, so you can drink clean water straight out of the sink when it's hot or cold. With a durable, corrosion-resistant design, your Berkey water machine will last for decades.
Replacing your filter every year is an important part of staying healthy, but it can be difficult to determine how often you should replace your filter. The Royal Berkey Water Filter System makes it easy to do so by providing two black Berkey filters, you can also use up to 4 filters and add fluoride filters as long as they last. 
Features: All New! All Black Berkey System. This is a Stainless Steel, two-stage drinking water filter system. It has an activated carbon pre-filter (removes chlorine, taste, odor, and particulates), a counter flow media post-filter that reduces particulates and heavy metals, plus a ceramic disc activated carbon filter on the final stage which reduces harmful materials by filtering out lead, arsenic, copper, mercury and more. Completely filters  tap water of any contaminants. Perfect for use in your own home or as a backup water supply System includes 2 black Berkey filters
With a wide range of purifiers, Berkey filters are used in many applications to provide water that is safe to drink. Enjoy the best tasting water you can get, you'll never have to worry about chemicals, taste, odor and chlorine again!
Simple and Easy - No Tools or Complex Instructions. It'll be ready for use minutes after you unpack it.
Fast - the powerful filtering system gives you 3.25 gallons (14.7 liters) of crystal clear water in just one hour.
Perfect for emergencies - since it works with no electricity, this is great for situations when there is a power outage and no fresh water available! Fully configured, this system can serve up to 55-88 people a day if needed.
Convenient - Up to 3.25 gallons can be placed into the upper chamber at once, and it filters through to the bottom chamber in just a short time, leaving you with ready-to-drink water. (For normal, everyday use, this amount will easily serve the needs of a family of 6.)
Counter-friendly size - at just 24" tall and 9.5" in diameter, it will leave plenty of space on your counter. And it even looks nice and modern!
Easy to store - the upper chamber can nest into the lower chamber for transport and stands only at 18" in height when collapsed.
Long lasting - the  Elements has a lifespan of 6,000 gallons for a two-filter system.
Royal Berkey:
Portable & Travel Friendly - Since it doesn't require any plumbing or electricity, easily take it along on your trips & outdoor activities.
Works During Power Outages - No access to fresh water? Simply use your Berkey to convert any water into drinking water.
Save Money - No need for cases & cases of expensive bottled water. With the sleek Berkey filter, you'll have endless & convenient access to delicious, healthy water.
Great For Environment - Each time you drink from a Berkey Water Filter System, you're saving plastic bottles from landfills.
Simply place it on a tabletop, fill it with any water, and enjoy clean FRESH water!
Specifications
Royal Berkey
Capacity:
Height:
Diameter:
Weight:
Material:
Max Flow Rate:

2 filters up to 3.5 gallon per hour filled 4 filters up to 7 gallon per hour filled

Weight - Filled:
Spigot Material:

BPA-free high-impact FDA-grade black polypropylene plastic.

Storage Dimensions:
2 Black Berkey Purification Elements
Capacity:

Filters 3000 gallons per unit

Height:
Diameter:
Included in the box
Upper and bottom chambers,
2 black filters,
Spigot,
2 wing nuts,
Primer ring
Why are my Black Berkey® Purification Elements letting water through so fast?
It can be normal for the Black Berkey® Purification Elements to have a fast flow rate. Anything from a trickle to even a steady stream of water is normal.
Why aren't my Black Berkey® Purification Elements letting any water through?
It's most-likely that the purifiers need to be cleaned or primed properly. This can be done by scrubbing the elements with a Scotch-Brite pad (or something similar) under running water and then re-priming them.
Why is my spigot leaking?
See if the leak is coming from the spout (where water is supposed to come out of), or from where the spigot meets the bottom chamber.
If the leak is coming from the spout, tighten the round pedestal underneath the lever clockwise.
If the leak is at the bottom chamber, ensure that the washers are set up properly. If so, tighten the spigot nut. If none of these solutions work Contact Customer Service to replace the spigot.
My lower chamber is full, but when I open the spigot no water comes out of it. Why?
This could be caused by an airlock issue between the top and bottom chambers. If there's not enough airflow between the two chambers, water will not be able to flow out of the spigot. There's a temporary fix and a more permanent fix for this.
Temporary Fix: Place something thin (i.e. a drinking straw) between the top and bottom chambers. This will create enough of a gap for air to flow through the system properly.
Permanent Fix: Remove the top chamber from the bottom and set it aside. Dump out any water from the bottom chamber and set it aside. Remove spigot from bottom chamber. Turn the bottom chamber on its side and roll it against a hard surface while applying gentle pressure from the top. This will gently re-shape the metal and create a natural gap between the top and bottom chambers.