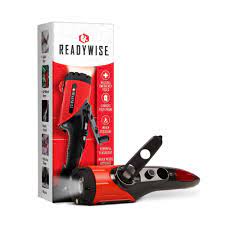 ReadyWise Multi-Functional Survival Flashlight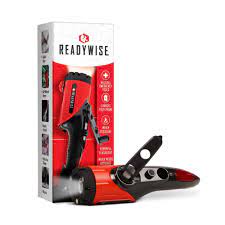 The ReadyWise multi-functional survival flashlight is an essential item to have in any car! With tools such as a seatbelt cutter, a hammer to break windshields, a flashing red alert light, and a hand crank to charge your mobile phone this multi-functional survival flashlight will leave you prepared when on the road.
Flashlight Features
Multi-function tools for auto related emergency situations
Easy grip handle and crank for convenient use
Quick charge for your mobile phone
Ultra-bright LED light for power outages
Strong magnetic force to stick to metal for convenient/accessible storage
Caution Notice
Do not point LED light directly into you eyes.
Keep out of reach of children.
Crank evenly and steadily. Cranking too slow may prolong charging time. Cranking too fast may damage drive system.
Hold steady with two hands when cranking. Keep focused on your cranking hand to avoid injury to your fingers.
Only crank up to 3 minutes continuously when the light has some battery power. Crank no more than 10 minutes when light has no battery power and is completely drained.
Crank for at least 1 minute per month to prolong the battery life.
This product may not fully charge a mobile phone.
Only use the supplied USB cord to attach to the flashlight. Use you mobile phone providers USB charging cord to attach to the supplied USB cord.
Specifications
ReadyWise Multi-Functional Survival Flashlight
Included in the box
Seatbelt Cutter
Hammer to Break Windshield
LED Flashlight
Flashing Red Alert Lights
Mobile Phone Charger
Where should I store my food?
This depends upon where you live. These products are made of both freeze-dried and dehydrated components and are affected by temperature, moisture, oxygen and light. Optimal storage conditions for our foods are in cool, dry places.
How much water will I need?
On average, each individual serving requires 1 cup of water.
What allergens are contained in Wise products?
Milk, soy, and wheat (gluten) are the common allergens found in Wise products. For specific ingredients by product type please consult the nutritional labels.
What is your Return Policy?
You may return any unopened, unused merchandise, no questions asked, within 30 days of purchase.